Truliant's Uthra Joins RevTech as Executive in Residence
Truliant's Uthra Joins RevTech as Executive in Residence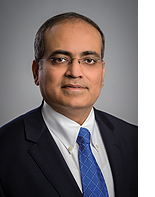 WINSTON-SALEM, N.C. (March 17, 2021) – Sandeep Uthra, Truliant Federal Credit Union's chief information officer, has been named an executive in residence at RevTech Labs, based in Charlotte. Uthra has been with Truliant since 2016.
RevTech Labs offers fintech and insurtech startups programming that grants them access to over 500 mentors and 200 venture capital partners, to maximize success for the startup founders and provide increased value and innovation to corporate and venture capital partners.
RevTech Labs has four executives in residence. To qualify, they must have jobs in the C-suite. RevTech Labs considers these four people to be in the upper echelon of their mentors. The executives keep office hours and meet virtually on Zoom. The executive program is dedicated to offering an extra level of one-on-one expertise for startup founders. The executives are selected based on their expertise in a specific area and their overall work experience.
RevTech Labs is a startup accelerator geared toward early-stage tech companies that are developing software solutions. Founders and their teams get mentorship opportunities from local, regional and national tech leaders. Its focus is on giving startup founders access to critical learning opportunities and connecting them with established executives so they can accelerate the success and growth of their companies. RevTech Labs operates the Queen City Fintech startup accelerator.
"The support of financial services and fintech ecosystems, locally and around the world, has always been at the core of what RevTech Labs does," said Dan Roselli, founder and managing director of RevTech Labs. "We are thrilled to have Sandeep join our executive in residence program and connect Truliant to our ongoing work."
Uthra has more than 20 years of experience developing and executing IT strategies. He has an Executive MBA from Queens University, McColl School of Business, and a bachelor's degree in computer engineering from Amravati University in India.
Uthra is a certified Six Sigma Green Belt professional. He also received a certificate from the University of California, Berkeley for its Artificial Intelligence strategy course. In 2020, he was selected as a Forbes Technology Council member.
---
About Truliant Federal Credit Union
Truliant is a mission-driven, not-for-profit financial institution that promises to always have its member-owners' best interest at heart. It improves lives by providing financial guidance and affordable financial services. Truliant was chartered in 1952 and now serves 270,000+ members. Truliant has more than 30 Member Financial Centers in North Carolina, South Carolina and Virginia.
FOR MORE INFORMATION
Contact: Heath Combs
[email protected]
(o) 336.293.2054 (c) 336.442.5736