Truliant Appoints Kielbasa Chief Compliance Officer
Truliant Appoints Kielbasa Chief Compliance Officer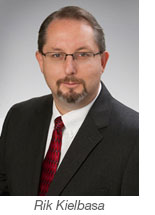 WINSTON-SALEM, N.C. (May 19, 2022) – Truliant Federal Credit Union announced today that it has appointed Rik Kielbasa to the role of chief compliance officer. Previously, he was chief digital officer.
In this role, Kielbasa adds responsibility for policies, procedures, improvement and new programs in Truliant's compliance area. He will continue to organize, plan and direct its member experience touchpoints including fraud management, call centers, vendor management, ATM services, business continuity and project governance. He reports to Truliant President and CEO Todd Hall.
"Rik's successful work with leaders across many different organizational areas will be essential to creating greater vision around compliance as we grow," Truliant's Hall said. "His knowledge of the digital landscape, our partners, and our members' needs will help better position Truliant for the future."
Over the last four years, Kielbasa has led Truliant's efforts to build out the framework for digital sales production and design thinking process improvement, allowing it to offer simple and intuitive digital solutions that let members choose how they engage with the credit union. Among other accomplishments, he has led the governance of Truliant's corporate project portfolio, refining the process of selecting and managing the optimum set of project-oriented initiatives to deliver the greatest value to the credit union.
Kielbasa joined Truliant in 2009 as the Vice President, Member Contact Center. In 2013 he was promoted to Senior Vice Present, Member Experience and led the credit union's branch network. Kielbasa was named Chief Digital Officer in 2017.
He serves on the board of directors at Carolina Credit Union Services, which supports convenient member service access. Kielbasa earned a Master of Business Administration degree from Elon University.
---
About Truliant Federal Credit Union
Truliant is a mission-driven, not-for-profit financial institution that promises to always have its member-owners' best interest at heart. It improves lives by providing financial guidance and affordable financial services. Truliant was chartered in 1952 and now serves 289,000+ members. Truliant has more than 30 Member Financial Centers in North Carolina, South Carolina and Virginia.
FOR MORE INFORMATION:
Contact: Heath Combs
[email protected]
(o) 336.293.2054 (c) 336.442.5736
Related Topics