Truliant's Flack Selected to Crash the GAC at Premier Advocacy Event
Truliant's Flack Selected to Crash the GAC at Premier Advocacy Event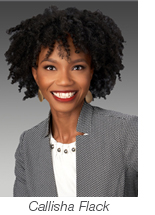 WINSTON-SALEM, N.C. (Feb. 17, 2023) – Truliant Federal Credit Union announced today that Callisha Flack has been selected to "Crash the GAC" in Washington, D.C. later this month.
Crash the GAC takes place at the Credit Union National Association's (CUNA) Governmental Affairs Conference (GAC). It allows young professionals and emerging leaders to "crash" the event and take a deep dive into the world of advocacy.
"We are honored Callisha was chosen to represent the next generation of leaders for this highly competitive opportunity and really proud since she is the first Crasher to be chosen to represent Truliant," said Atticus Simpson, senior director of community engagement and government affairs. "We are inspired to see her join this esteemed group of rising talent to create lasting connections that will impact the future of our industry."
Flack, who is associated products and services coordinator at Truliant, was chosen from 233 applications. It was Crash the GAC's largest ever applicant pool, and a total of 58 crashers were chosen from 48 states.
She will attend with financial assistance from Truliant's Schaefer Legacy of Leadership Scholarship. Created in honor of former Truliant President and CEO Marc Schaefer, the professional development scholarship is dedicated to ensuring that credit union values are instilled in its workforce.
CUNA is the credit union industry's largest trade association, and the GAC is its premier advocacy event. It gathers thousands of industry leaders to remind legislators and regulators why credit unions are Americans' best financial partners.
Crash the GAC features exclusive networking and leadership development opportunities, and mentoring sessions with industry leaders. It is designed to spark new ways of thinking and build lasting relationships for emerging leaders. It aims to help attendees leave the nation's capital with a new hunger to help strengthen their communities and organizations.
---
About Truliant Federal Credit Union
Truliant is a mission-driven, not-for-profit financial institution that improves lives by providing great service and straightforward financial solutions. It improves lives by providing financial guidance and affordable financial services. Truliant was chartered in 1952 and now serves 300,000+ members. Truliant has 30+ branch locations in North Carolina, South Carolina and Virginia.

FOR MORE INFORMATION:
Contact: Heath Combs
[email protected]
(o) 336.293.2054 (c) 336.442.5736