Truliant Names Jenkins Vice President of Financial Fraud Investigation
Truliant Names Jenkins Vice President of Financial Fraud Investigation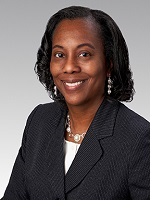 WINSTON-SALEM, N.C. (March 28, 2023) – Truliant Federal Credit Union announced today that it has named Michelle Jenkins to the newly created role of vice president of financial fraud investigation.
Jenkins will be responsible for the strategic oversight and architecture of Truliant's fraud and loss mitigation strategies across all banking channels. Additionally, she will oversee the development of policies and procedures to detect and prevent fraud activities. Jenkins reports to Anderson Langford, chief operations officer.
"Michelle's deep level of knowledge in creating multi-layered strategies to keep accounts secure will be essential to protecting our members," Truliant's Langford said. "She understands our industry and we look forward to the contributions she will make enhancing Truliant members' experiences."
Jenkins' career in banking spans almost two decades. She has led teams dedicated to the prevention of fraud and global financial crimes risk management, supporting multiple lines of business.
At Truliant, she will work with stakeholders covering areas including electronic payments, information technology, information security, and compliance, among others.
Jenkins has a master's degree in management from Friends University. She has bachelor's degrees from North Carolina A&T University in electronics and computer technology and in manufacturing systems. Additionally, Jenkins holds certifications as a Lean Six Sigma Black Belt, an Anti-Money Laundering Specialist and in E2E Process Design and Reengineering.
---
About Truliant Federal Credit Union
Truliant is a mission-driven, not-for-profit financial institution that improves lives by providing great service and straightforward financial solutions. Truliant was chartered in 1952 and now serves more than 300,000 members. Truliant has 30+ branch locations in North Carolina, South Carolina and Virginia.
FOR MORE INFORMATION:
Contact:
Heath Combs
[email protected]
(o)
336.293.2054
(c)
336.442.5736