Truliant At Work
Sign up for Truliant At Work and extend your employee benefits.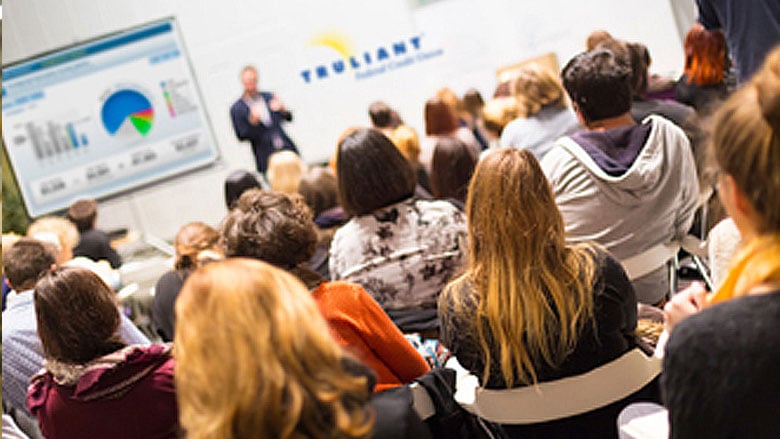 Let Truliant At Work help benefit your employees.
Reduce financial stress

Trusted guidance for your employees

Join over 1,000 Business Partners

Set up an appointment today!

Welcome to Truliant At Work!
Employers are increasingly aware of the impact of employee financial stress on employee performance. The results can be higher healthcare costs, absenteeism and workplace accidents to name a few. More and more companies are adding financial education/literacy to their wellness programs.
A great addition to both your employee benefits and wellness programs


Teaches and then assists your employees achieve long-term financial success


Truliant at Work is provided with no cost to you and is free of administrative burdens
Offering the Truliant At Work program as a benefit can help your employees gain confidence in their financial wellness and help them make better financial decisions.

Truliant At Work Provides Long-Term Benefits to Your Employees
When an employer partners with Truliant At Work, their employees can take advantage of Credit Union benefits that build strong financial futures. This dynamic workplace program offers traditional accounts and services plus additional ones such as our Credit Union Auto Buying Service and access to our financial advisors who can assist them with financial planning and complimentary 401k reviews.

Truliant At Work's onsite educational tools can be customized to fit your company and employees' needs. They include financial education seminars, onsite one-on-one credit reviews and access to online financial literacy for off-site employees. These perks help your employee benefits package stand out in the marketplace.

Also, your company will be assigned a Truliant At Work Officer. They will be your contact at Truliant to help you with this program. Your company will designate a Business Partner Liaison who will work directly with the Truliant At Work Officer.

Learn more about the Truliant At Work Program!
Improve employee satisfaction, productivity and retention with a financial employee benefits program. Become a Truliant At Work Business partner by completing our application and start delivering these benefits to your employees. Click on the links below to learn more.