Truliant at Work Employee Benefits
Make the most of your employer's partnership with Truliant at Work.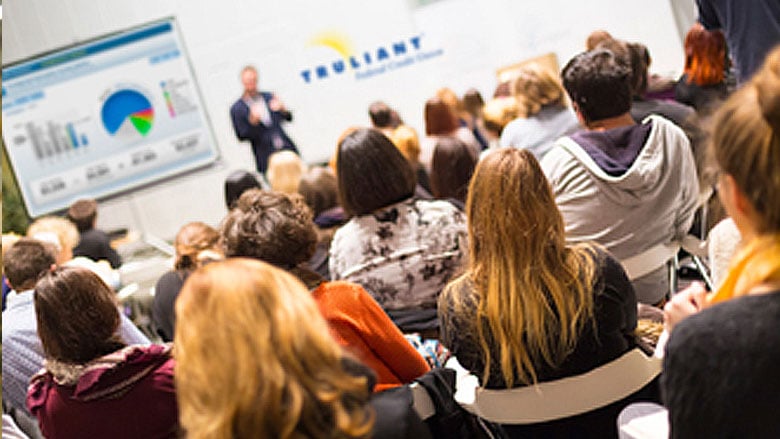 Explore the many ways Truliant at Work can help meet your financial goals.
Make the most of your employer's Truliant at Work partnership today!
For over 65 years, Truliant has maintained the focus of improving our members' lives by keeping their best interest at the forefront. As an employee of one of our Business Partners, you can receive great rates on loans, take advantage of an array of various services and products at your fingertips and attend one of our many on-site or virtual financial seminars tailored to your goals and needs.

Employees like you can also take advantage of our popular personal financial checkup with one of our dedicated member specialists. We're here to help you achieve financial goals by mapping out actionable steps to get you there. To take advantage of our personal financial checkup, simply schedule an appointment today.
Personal checking and savings accounts that fit your needs
Membership Savings Account
Open with a $5 deposit1
Begin using Digital Banking
Establishes your membership
Open online

Automatic Savings Accounts
Rainy Day: transfers the change in your checking to this account every business day
Save Your Way: transfers your chosen amount from your checking to this account every business day
Christmas/Vacation Club: transfers the funds from your savings to your checking for summer vacation or just in time for the holidays2

Truly Free Checking Account3
No maintenance or minimum balance fees, ever
Deposit checks using your smartphone
Mobile wallet friendly
Open online

Advantage Checking3
Minimum balance requirement of $2,500 in a checking, savings, or money market account4
Dividends posted monthly
Unlimited check writing
Open online
Finance your dreams with loans to fit your budget
Receive the financial solutions you need to continue to improve your loans with great rates and terms to match.

Auto Loans
New and used vehicle loan options
Rate discounts available
Apply online

Home Equity Loans and Lines of Credit
Great for remodeling, debt consolidation and more
Low, fixed or variable rates
No closing costs, maintenance fees or prepayment penalties5

Mortgages
Fixed and adjustable rate options
No prepayment penalty
Manufactured home and land loans available

VISA® Credit Cards
Transparent and Platinum Rewards options
Low variable rates
No annual, maintenance, cash advance or balance transfer fees6

Other Loans
Personal and debt consolidation loans
Business loans
Boat and recreational vehicle loans
Other great products and services available
Whether you're looking for a great deal on a new car or looking to start investing (and everything in between), you can find it at Truliant.

Credit Union Auto Buying Service (CUABS) Powered by TrueBuy7
Skilled advisors find your chosen vehicle from a large inventory
Convenient and time saving

Health Savings Accounts
Earn dividends
Funds roll over every year
No maintenance fees

Certificates
Guaranteed growth
Terms from 3-60 months
Flex certificates allow you to make additional deposits

Money Market Accounts
Tiers from $1,000
Earn dividends
Online, check and phone withdraws available

Individual Retirement Accounts (IRAs)
Traditional, Roth, SEP and Cloverdale
IRA Savings, Money Market and Certificate available
Earn dividends with interest
Free of maintenance fees

Truliant Financial Advisors8
Experienced financial advisors
Consultations by phone or appointment
Retirement planning, IRAs, mutual funds, life insurance, estate planning and more

Tru2Go App
Pay bills and transfer funds9
Check balances and deposit checks
Find branches and ATMs
Cashback rewards
Online Banking
Transfer funds and pay bills
Set text, email and security alerts
Financial guidance tools
Apply for loans and open accounts
Federally insured by NCUA.
(1) Must meet eligibility requirements to join.
(2) Any withdrawal from the Christmas Club Account before November 1 will result in a $10 fee.
(3) Must meet credit bureau and ChexSystems qualifications. Speak with a Truliant representative for additional details.
(4) Free if minimum balance is maintained. If balance falls below the minimum daily balance, your account will be subject to a $7.50 fee for that month.
(5) No closing costs if loan is not paid off and closed within 24 months. No closing costs not applicable in GA.
Appraisal fees may apply if appraisal is ordered and loan does not close. Up to $400 in closing costs paid on residential property in SC. No closing costs not applicable in GA.
(6) International exchange rates are 1% per transaction on Platinum Rewards card.
(7) Credit Union Auto Buying Service (CUABS) Powered by TrueBuy is an independent NC licensed automobile dealership not owned or operated by Truliant.
(8) Non-deposit investment products and services are offered through CUSO Financial Services, L.P. ("CFS"), a registered broker-dealer (Member FINRA/SIPC) and SEC Registered Investment Advisor. Products offered through CFS: are not NCUA/NCUSIF or otherwise federally insured, are not guarantees or obligations of the credit union, and may involve investment risk including possible loss of principal. Investment Representatives are registered through CFS. The credit union has contracted with CFS to make non-deposit investment products and services available to credit union members.
(9) Your mobile carrier's access and data fees may apply for mobile services.