Knowledge Base
Money Management with the TRU2GO app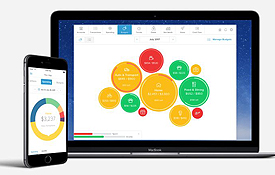 What Is the Money Management Feature in Online/Mobile Banking?
Money Management Online Budgeting
Truliant's Money Management tool, available in Online Banking and within the Tru2Go® mobile app, allows you to take more control of your finances than ever before!
Add accounts and loans from other financial institutions to get a unified viewpoint of your full financial picture
Budgeting tools help you create, and stick to, a plan for reaching financial goals
Debt payoff forecasting to guide you as you plan, and stay ahead of the game
Expanded goals like savings and retirement that allow you to monitor progress
A cash flow calendar to keep you on track with your daily spending
Connectivity for Quicken® and QuickBooks®
This free service also enables you to access your Truliant accounts using Quicken® or QuickBooks® .
Categorize your activity easily with complete transaction data and balance information
Syncs with supported versions of Quicken® or QuickBooks® software
To register, simply log into online banking and choose the Additional Services tab. Click on Connectivity for Quicken® or QuickBooks® in the dropdown and register. You may also contact us at 800.822.0382
This feature is now available in Tru2Go mobile banking!
Simply log in to the Tru2Go mobile banking app from your mobile device and select Money Management from the 'More' menu. The past 18 months of your information will automatically transition from FinanceWorks to Money Management. However, for security purposes, you will need to re-enter your login information and passwords for each external account. Additionally, fresh categories, goals and alerts will have to be setup.