Truliant makes Recreational Vehicle loans fast and easy.
Terms up to 180 months2

Easy, fast online application

Includes motorcycles and classic cars3
If you're looking for RV financing for your motorhome or camper, Truliant Federal Credit Union will get you on the open road quickly with flexible loan options.
Save time and money with Truliant RV financing.
Whether you're in the market for a new RV, a used camper or you want to refinance an existing loan, we're here to help. With flexible terms and fast approvals, you'll be on the road in no time.
Low, fixed RV financing rates to help you save money
Flexible term options so you can find a loan that fits for you
RV Financing on vehicles up to 10 years old
What should you expect when applying for RV financing?
Apply at one of our branches, over the phone or online using our quick, convenient digital application, available virtually anywhere.

Once you apply, we will help to walk you through the rest of the process so if you ever have a question, we're here for you. If you applied online, you can expect the same personalized attention from one of our Digital Guidance Team members.

Once a decision has been made on your application, we will contact you. If you are approved, your Digital Guidance Team member will contact you to discuss your RV loan amount, terms and payment information.

Your funds are ready whenever you are so you're free to start your next adventure.
What RV loan options do you have available?
An RV is a big investment. Gone are the days when a few thousand dollars could get you a quality camper. With prices a bit higher now, we can help you with financing so that you can focus on making memories, not a financial mistake.
RV Loans
Truliant RV loans feature low, fixed rates with terms up to 180 months.2 With flexible terms and new and used RV options available for a wide variety of motorhomes and campers, we can help with a loan that works best for you.
Refinancing RV Loans
We can even help you save money by refinancing your existing loan to a lower rate from Truliant.
What should I know before researching RV financing?
Recreational vehicle loans are the second most expensive purchase many people make, followed only in price by their home. And much like home-buying, there are many tips to consider prior to moving forward with an RV purchase.
Take your time. Be sure to look into the guts of the RV prior to purchasing to ensure things like your plumbing, electrical and other important factors are of quality. Many people take a year or more before finding their right camper. RV Loans are major investments, take time to ensure your decision is one you will be happy with for a long time.

Ask around. Talk to people who have RVs and ask what they like or don't like with their camper or motorhome. Consider asking about their RV financing, was it stress free? How many lenders did they talk to about RV loans?

Negotiate the price. A good rule of thumb is to look into purchasing an RV during the off-season at the end of the year or at the end of the month.

Consider purchasing a used model. You may not want to rule out used models as these may be gently used or even updated with a lower price. RV loans are expensive, saving money on a used camper can positively impact the life of the loan.
When it comes to RV ownership, a simple solution could be to ease into the purchase. Learn how with our simple guide.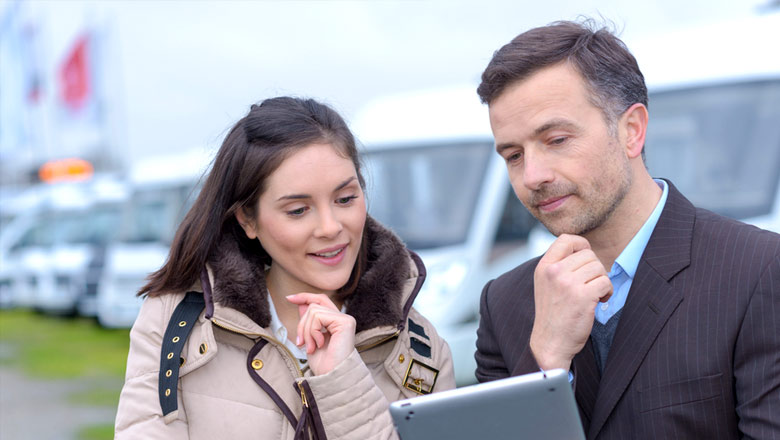 How to Get a Deal on a RV
Over the last several years, the market for recreational vehicles and trailers has grown. It was once believed that campers were for families to take on the road for a summer vacation, but recently, the industry has sparked the interest of even more millennials and retirees. People are embracing the idea of a home on wheels, which lets them travel the country without having to stay in hotels.

Learn how to get the best deal on your RV with these tips.
Estimate How Low Your Payments Can Be
Other Loan Tools and Resources
(1) APR = Annual Percentage Rate. Loans are subject to credit approval.
(2) Only motorhomes and campers are eligible for loans that exceed 84 months. The estimated monthly payment on a $40,000, 84-month term RV loan at 11.49% APR is $695.
(3) Classic cars are based on NADA classifications.

Pull trailers, horse trailers, snowmobiles, four wheelers/quads/trikes, and mopeds are not eligible for a RV loan.
Provision of the calculator on this page is not an offer of credit. Its use in no way guarantees that credit will be granted. This calculator is solely for informational purposes and provides reasonably accurate estimates; the calculations are not intended to be relied upon as actual loan computations.