The most cost-effective way to enjoy a boat is to have a friend with a boat. But, if you dream of the open water and want a boat of your own, Truliant Federal Credit Union can make that dream a reality.
Go out and play with a convenient loan that saves you money.
Save time and money with a boat loan while spending more time doing what enriches your life.
Fixed, low rates with flexible terms so you get a boat loan that works for you
Boat financing on models up to 10 years old
Get a loan worth 85% of the invoice price, plus tax and titles, for new boats
Whether you're in the market for a new boat, a used one, or you want refinance an existing boat loan, we're here to help. With flexible terms and fast approvals, you'll be on the water in no time.
What should I expect when applying for a boat loan?
Apply at one of our branches, over the phone, or online using our quick, convenient digital application, available virtually anywhere.

Once you apply, we will help to walk you through the rest of the process so if you ever have a question, we're here for you. If you applied online, you can expect the same personalized attention from one of our Digital Guidance Team members.

Once a decision has been made on your application, we will contact you. If you are approved, we will also discuss your loan amount, terms and payment information.

Your funds are ready whenever you are, so you can hit the water quick.
Which boats are eligible for financing at Truliant?
At Truliant, we have a variety of loans to help you find an option that's right for you.
Boat Loans
Truliant boat loans feature low, fixed rates with terms up to 180 months.
2
With flexible terms and new and used boat options available for bass boats, sailboats, trawlers, multi-hulled and more, we can help with a loan that works best for you. And, we'll lend up to 85% of the invoice price, plus taxes and tags, for new boats.

Refinancing Your Current Boat Loan
We can even help you save money by refinancing your existing loan to a lower rate from Truliant.
What should I know before purchasing a boat?
Choose the right boat for your needs. Whether you're wanting something to enjoy with others or just looking for a fishing boat, there are numerous boats that can fit your needs.

Determine if you'd like a new or used model. Would you rather have a new model with the latest bells and whistles, or are you looking for an older, reliable model?

Ensure your boat is certified. This ensures that your boat is up to safety and construction standards.

Negotiate your price. Just like when purchasing a car or RV, negotiating your price can save you thousands on your new boat.

Save for your down payment, taxes, title and registration fees. At Truliant, we'll help you by lending 85% of the invoice price, plus taxes and tags, on a new boat.
Motorcycle, RV, Boat and Classic Car Loans
Boat loans include motor, trailer & accessories. Classic Cars are based on NADA classifications. All loans are subject to credit approval.
(1) The estimated monthly payment on a $30,000, 60-month loan at 10.49% APR is $645.
(2) Annual Percentage Rate (APR) may change before consummation of the loan. Loan rates are based on credit history, profile, and loan terms.
Boat Loan Calculators
I'm very impressed with Truliant, everyone is friendly and answers all my questions. The loan process was quick and smooth. I'm ready to go fishing.
I have banked with them for 5 years. Great boat loan financing and very friendly staff. Fantastic Credit Union.
The loan officer that helped me is great! Even though I ended up needing a different type of loan, she connected me with someone to help me. I recommend Truliant to all my friends.
Our loan officer went above and beyond to get our approval paperwork finished. Thanks so much!
Professional and super friendly, Truliant treats me like family. They are patient and explained banking procedures in a manner that I understood.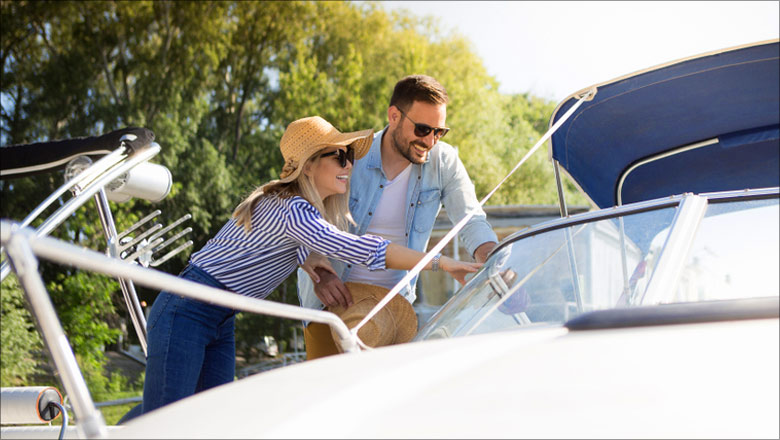 How to Get a Deal on a Boat
Whether you have an eye on a boat you love or you're still browsing your options, make sure you're getting a great deal on your new boat with these great tips.
Boat Loan Tools and Resources
(1) APR = Annual Percentage Rate. Loans are subject to credit approval. Boat loans include motor, trailer and accessories.
(2) The estimated monthly payment on a $30,000, 60-month term Boat loan at
10.49%
APR is $645.
Jet skies do not qualify for this loan.
Provision of the calculator on this page is not an offer of credit. Its use in no way guarantees that credit will be granted. This calculator is solely for informational purposes and provides reasonably accurate estimates; the calculations are not intended to be relied upon as actual loan computations.