How To Get The Best Deal On a Boat
How To Get The Best Deal On a Boat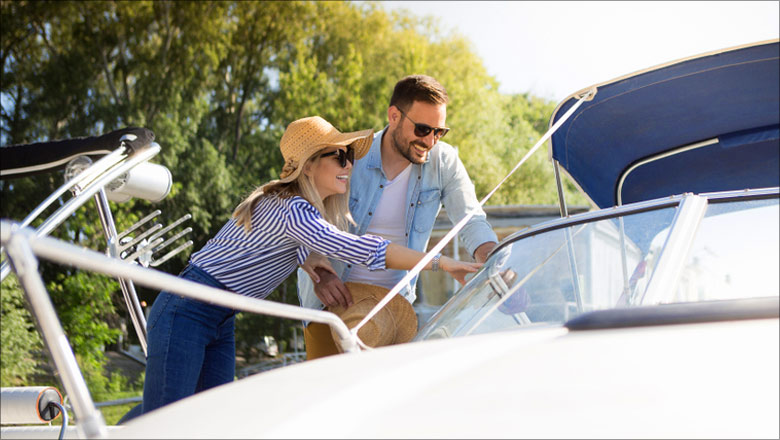 Fishing for a Deal When Buying a Boat
Whether you're in the market for a small fishing boat to enjoy on weekends or a luxury vessel, signing an agreement to buy a new boat is a major financial commitment. In an effort to get the most out of your purchase, below are some tips to keep in mind when shopping for a boat.
Buy at the right time.
Buying a boat at peak boating season will cost you. Just like how you may pay more for winter clothing in late fall or early winter, boat dealerships charge more for boats during the spring and summer when boating is a more frequent activity. According to
Trusted Choice
, late fall is a good time to go boat shopping. Depending on where you live, this may mean you won't get to enjoy your new purchase as soon as you buy it, but it could help you save thousands on your purchase.
Make sure to shop around.
If you've gone vehicle shopping, you're probably already familiar with this concept, but many people don't think about this idea when looking for a new boat. Maybe it's because boat dealerships aren't as common as car dealerships, but the temptation to feel bound to the first lot you visit is very real. You can save big money by shopping around and going to different dealers, even if it means having to drive a little farther.
Visit a boat show
.
Boat shows vary by region, so though you may have to travel, but the potential savings could be worth it. Boat shows are typically held during winter months, but you also may be able to attend one in early spring.
Manufacturers regularly attend these boat shows, and while they may advertise that it's an opportunity for you to gather information about their product line, they aren't going to turn down a potential sale. If you attend a boat show and are able to deal with a manufacturer, you put yourself in a position to save big. When you buy from a dealership, there's a considerable markup from what they bought the boat for to what they charge you for it. If you're able to go straight to the source at a boat show, you cut out the middleman and can keep some extra money in your pocket.
Brand loyalty?
The brand of boat you buy will play a huge role in the price. While you certainly don't want to buy a boat from a company that has a history of mechanical failures and bad service, attaching yourself to a certain brand can put you in a position to pay more than you have to.
Make a list of the things that matter the most to you in your new boat, gather information on every boat that offers your top wants and needs, and begin shopping around.
Truliant offers great rates and flexible terms on boat loans. If you're ready to get out on the water, contact us today.
References:
https://www.trustedchoice.com/insurance-articles/best-time-to-buy-a-boat/
---