Easing into an RV Purchase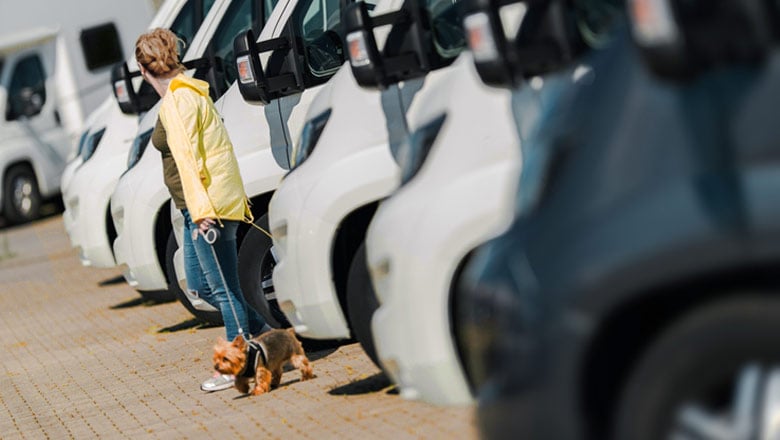 They say buying an RV is like buying a car, only harder.

Recreational vehicles – popularly known as RVs – come in all kinds of shapes, styles, sizes, colors and prices. For some, a RV could be the second largest purchase – behind a wheel-less home – that they make in their life. So it's worth doing research and giving serious consideration as to how you want to use your RV.

Initial questions

The first questions you need to answer are related to how you want to use your RV, what features you want and where you plan to travel. TripSavvy offers some initial questions that you should answer:
Why are you buying a RV?
Where do you plan to travel with your RV?
Do you prefer to tow a trailer or drive a motorhome?
What features do you need?
What features do you want?

Once you answer these questions, you'll be better able to consider which type of RV is correct for you and your family.

Types of RVs

There are seven different types of RVs, ranging in price from several thousand dollars to well north of $1 million. The different models are described briefly below.
Class A Motorhome: These are the largest and most expensive RVs available. The amenities are almost endless: kitchen, shower, living area, entertainment center, etc.
Class B Motorhome: This is essentially a full-size van. This is more like a conventional automobile in terms of handling, gas costs and maintenance.
Class C Motorhome: This is a hybrid version that fits between Class A and Class B. The defining feature in these RVs is an over-cab sleeping area. They vary in length from 20 to 40 feet.
Travel Trailer: This is the most popular RV that can be towed. They vary in length from 12 to 33 feet.
Pop-Up Camper: These are the most compact and lightest RVs. They are easy to tow and easy to park. They vary in length from 8 to 25 feet.
Fifth-Wheel Trailer: These are defined by their gooseneck front, which attach to a pickup truck so they can be pulled. They vary in length from 25 to 45 feet.
Truck Camper: These fit right in the bed of a truck and are easy to remove. They often have a shower, toilet and a cooktop.
Hidden costs

There are numerous ongoing costs that you need to take into account before your RV purchase. Depending on the size and type, there can be costly issues for: maintenance, insurance, fuel, larger vehicle to tow the RV and where to park the RV when it's not in use.

Buying process

Once you've decided on the type of RV that you want, then more specific research begins. You can do local and national searches through Google, but you might want to start with organizations that specialize in RV reviews. Here are three of them:
At this point you should have a firm idea of what you want, what you can afford and the models and manufacturers that you may be interested in seeing. This is when RV shows and RV dealers are helpful. Shows allow you an opportunity to see a variety of options, speak with representatives and meet other people who are interested in RVing.

After you've been to a few shows, you might want to visit a couple of dealers to see what they have on their lots and to get some specific pricing.

Test with a rental

Renting an RV is a prudent next step. It will give you the opportunity to rent the type of RV you are thinking of buying; it will let you see what it's like to drive and maneuver an RV for a week or two; and you'll find out pretty quickly if you like living in an RV.

Cruise America is a good place to start, but most areas have local RV rental opportunities. Renting allows you to enjoy various RV's and decide which model is best for you, before entering the motorhome financing process.

New or used

RVs are just like cars and boats: used costs less than new. New RVs begin to depreciate the second you drive them off the lot. But with a used RV you might have more maintenance, you don't know how a used RV has been treated – and you certainly won't get that new RV smell.

RV user groups

Fellow RV enthusiasts - like the ones you'll find in RV camping clubs, are a great source of information before, during and after you purchase an RV. Members can provide all kinds of advice and ideas about owning and using an RV. Group members love to share stories, tips and details about camping. This a good arena to ask about their camper financing experience, and seek recommendations.

Financing

Truliant finances RVs – specifically campers, motor homes and pop-ups. We offer financing for recreational vehicles up to 10 years old, terms up to 180 months depending on loan amounts1, rate discounts, and CD&L and Gap insurance. Set an appointment to speak with one of our credit union RV loans specialists today, or call 800.822.0382 for more information.

Federally insured by NCUA. (1) All loans are subject to credit approval. Only motor homes, campers and boats are eligible for loans exceeding 84 months. (Motorcycles and classic cars are not eligible for terms longer than 84 months.) The estimated monthly payment on a $25,000, 60-month term RV loan at 6.49% APR is $489.