Helping the Rumleys Buy the Boat of Their Dreams
Helping the Rumleys Buy the Boat of Their Dreams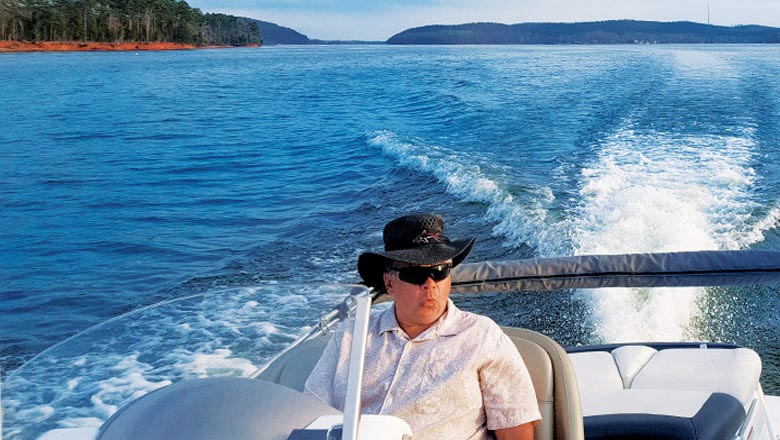 For their 30th wedding anniversary, Richard and April Rumley went to the Caribbean.
"Up to that point I had never owned a boat in my life. I only learned to swim later in life," Richard, 55, said.
"In the Caribbean, we went on these boats and saw all these wonderful sights. We had a blast. I said, 'This is it!'"
"After that I really wanted a boat. It just started making more sense taking family vacations and having family weekends. If I don't do it now, I won't be healthy enough in 20 years. We have three children and two grandkids. I just wanted to provide some memories for them. And, it's true, I wanted to have a good time."
But Richard, who drives a truck for Mail Contractors of America, a subsidiary of Pat Salmon and Sons, between Greensboro, Chicago, Cleveland and Pittsburgh, had to be a little strategic – marriage-wise – as he approached the idea of buying a boat.
"I wanted April involved in the purchase," Richard said. "I'm older and wiser now. If I just went out and bought a boat on my own – like an idiot – I would have never heard the end it."
The Rumleys looked at several boats, including ones that were smaller and cheaper, but April wanted a bigger boat "that the whole family could enjoy," Richard said.
Before a boat was even a possibility, Richard met Sonja Kennedy through his dirt-bike school in Lexington, N.C. The school, which opened in 2007, is called Holdfast.
Kennedy is the manager of the North Point branch in Winston-Salem, N.C., and wanted all of her children to learn about riding dirt bikes safely. "They loved it, and they beg to go back for more and more," Kennedy said.
During their conversations, Kennedy told Richard about Truliant and encouraged the Rumleys to become members.
When the Rumleys got serious about buying a boat, they met with Kennedy – "my go-to person at Truliant," Richard said.
"We wanted to find out the parameters of what we could afford to buy – but I didn't want to know what the maximum amount was," Richard said. "April and I wanted to find a boat where we could afford the payments. We don't drive fancy cars, and we try to keep our debt-to-income ratio to a mild roar so it's not out of hand."
With a target price in mind, the Rumleys started searching for a boat. Since April wanted a boat that could fit the whole family, they settled on a 2007 Sea-Doo deck boat that seats 12. It has twin 155-horsepower engines.
"When Richard first started looking at boats, he was talking about a little fishing boat," said April, 49.
"For weeks and weeks he showed me videos and pictures. Finally, I said, 'Let's go see some boats.' We looked at two at Lake Norman. I said, 'As long as we're going to buy one it might as well be the newer and nicer one.' He was kind of surprised I was willing to spend that much money."
They bought the "newer and nicer" one for $17,000 from a couple from Charlotte who had bought the boat new for $40,000. "They had barely used it," Richard said. "It didn't have a scratch on it."
Truliant will finance boats that are 10 years old or less, so the Rumleys got in just under the wire. The Rumleys in November 2016 got a 60-month, used-boat loan for $17,000.
"The whole loan process at Truliant went smoother than I thought it would," Richard said. "That was impressive."
Now, family trips and vacations revolve around the deck boat. They keep it on a trailer and go to High Rock Lake in Davidson and Rowan counties, Belews Creek in Forsyth County, and Carolina Beach and Ocean Isle along the coast.
"The last year with the boat has been awesome," said April, who works as a hair stylist in Winston-Salem. "Now, we can go on the boat with the whole family and friends. We had one of the best Labor Day weekends at Ocean Isle. We rented a house right on the canal. We docked the boat right next to the house. It was a dream come true."
"Another time we ate at the Provision Company in Southport. We'd eaten there before and thought it would be a dream to have a boat so we could dock at the restaurant, eat and then leave on a boat. This time we did that. We hopped on the boat and went back to Carolina Beach. We never thought we would be doing that."
But the one thing they have to always check is the plug in the bottom of the boat. When the boat is at home on the trailer, the plug is open so water can drain. "April always asks me before we put the boat in the water: 'You got the plug in?'
"That's my job," April said. "I'm not going to get out there and sink. That's the one thing I know about. I may not be able to load it and unload it, but I can make sure the plug's in."