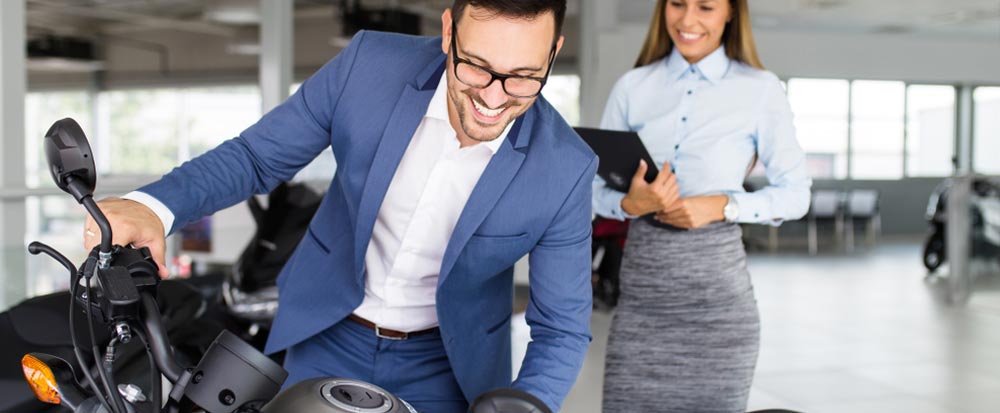 For many, few experiences rival riding a motorcycle across an idyllic backdrop – whether it's a cruise down the coast, a drive through the mountains or a trip through the countryside.
You may even be tempted to forget the outside world for a bit, or better, turn the phone off for a few minutes.
For some, it's a lifestyle. For others, a weekend escape. If you're considering buying your first motorcycle, read on for some things to consider and how to configure your motorcycle financing with our motorcycle loan calculator.
The first step, of course, is to develop the skills and knowledge needed to safely operate a motorcycle; a safety course with the
Motorcycle Safety Foundation
(MSF), is a great place to start.
Second, a defensive driving safety class is critical.
It will prepare you for what to expect. If you go to the Department of Motor Vehicles and have never been on a bike and try to ride, chances are you will not get a permit. Additionally, many insurance providers will give you a discount if you successfully complete the class, so spending the time and money to participate in this class is a wise investment.
Now let's get to selecting and buying a bike.
Pick Your Style
When shopping, first determine how you are going to use your bike. There are lots of different kinds of motorcycles. They are designed for different types of needs: speed, commuting, different road surfaces, weather conditions, long-distance touring, etc. Make sure you pick the style that is right for you.
Don't Buy More Bike Than You Can Handle
Motorcycles come in all shapes and sizes, but keep in mind that bigger (or smaller) is not always better. When seated, you should be able to rest both feet flat on the ground without having to be on tiptoes – so the bike doesn't tip over. Handlebars and controls should be within easy reach. Choose a model that's easy for you to engage and disengage the kick stand. A good rule of thumb for bikes: if it feels too heavy, it probably is.

Motorcycles generally range from 125cc to 1400cc (cubic centimeters – the size of the bike's engine). A smaller model with a 250cc - 300cc engine can make a great starter or commuter bike. If you are planning on doing a lot of highway riding, you may want one with an engine in the 500cc - 750cc range so you can easily keep up with traffic.

Most importantly, what you buy will depend on your size. A buyer has to buy the bike that's best for their height and weight. Keeping a 300-pound bike balanced on two wheels is difficult. Find a bike that's comfortable for you. A light rider buying too light of a bike can be just as dangerous as buying a bike with too much engine!
How Much Should I Spend?
In addition to handling and power, cost is a primary factor. A new 600cc bike can cost $9,000 or more, with larger engines and styles costing as much as $30,000 or more. A new 250cc bike can be bought for around $3,000, and the price goes even lower, as with all motorized transportation, with a used bike. Get something you can develop your skills with, and trade up when you're ready.
Time for Research
Dealerships are great places to view a range of bikes in terms of size, weight, model and primary use. Visit a reputable local Harley-Davidson, Honda, Yamaha or Suzuki dealer to explore your options and have your questions answered. They're educated on the bikes they sell and have experts who can help size you for a bike.
If you're looking to test drive a bike, it probably won't happen at the dealership due to liability issues. It's not unusual for someone to purchase a motorcycle and ride it for the first time when they leave the lot.
Once you settle on a size and how you are going to use the bike, turn to Google. As with reviews on cars, RVs and just about anything else, there are lots of choices. Here are three websites you might want to start with:
Popular Mechanic
,
Cycle World
, and
RideApart
.
With research and reviews, you'll be able to zero in on the model and type of bike you want.
New vs. Used
When you buy a new motorcycle, you know exactly what you are getting, along with the benefits of a warranty. The price is going to be higher for a new bike – and the second you drive the motorcycle off the lot, it will begin to depreciate.

But if you're a beginner, a used bike may be your best option.
The major benefit of a used motorcycle is a lower price, but you won't know for certain how the bike has been used. Here are some tips from Popular Mechanics when looking for a used bike:
Compare the odometer reading with the condition of the bike. Does it look right? Ask to see the maintenance and service records and receipts.
Look for rust and scratches.
A weathered seat and faded paint means the bike has seen a hard life.
Check for new or aftermarket parts that have replaced broken ones. Specifically, look at foot pegs, mirrors, handlebar grips, and brake and clutch levers.
Look for oil leaks.
Brake discs should be smooth, clean and not blue. Examine the tires for signs of abuse.
The bike should start easily. If it's hard to start or billows clouds of smoke – especially blue smoke – be cautious.
Defensive Wear
Style shouldn't be an issue when it comes to motorcycle clothing. First, you'll need a helmet that has been approved by the Department of Transportation. Most states have some law regarding the use of a helmet when driving or riding on a motorcycle. Buying a helmet is an art unto itself for motorcycle riders. From picking between full face helmets, dual sport, half-shell helmet, modular and open-face helmets, to finding the right-sized one for your head – one that fits slightly tight - it's important to consider your options.
Before buying a helmet, check out this
Motosport piece
that outlines your considerations. This DMV.org article discusses the
components
of a safe helmet. And, the N.C. Department of Transportation also has a
Motorcycle Handbook
that can guide you in selecting a helmet.
Helmet safety is yet another way a local dealer, or your safety class instructor, can help answer some of your questions.
You should also think seriously about a jacket with padding, riding pants, gloves and ankle-high boots. One fall and you'll understand why these are necessities and not options. You'll need to consider the right clothing for different kinds of rides, like those in cold weather, or rain suits for the unexpected storm. They are the only thing between you and the pavement.
Now that you're dressed to ride, you'll need to know the roads you plan to travel, especially if you're a beginner. Riding twisty back roads may not be the best options for a novice.
Then What?
There are thousands of motorcycle events and rallies across the country, and probably one or two in your area. These are a great opportunity to see lots of different types of motorcycles, and to talk with bike owners who are passionate about everything motorcycles.
If you're in need of motorcycle financing, come see us. We specialize in Harley Davidson financing and Honda motorcycle financing. Set an appointment at any of our
convenient locations
. One more note. In addition to great motorcycle loan
rates
, Truliant offers
Guaranteed Asset Protection (GAP)
on motorcycle loans.
Estimate How Low Your Payments Can Be
Provision of the calculator on this page is not an offer of credit. Its use in no way guarantees that credit will be granted. This calculator is solely for informational purposes and provides reasonably accurate estimates; the calculations are not intended to be relied upon as actual loan computations.