Cline Promoted to Senior Director
Cline Promoted to Senior Director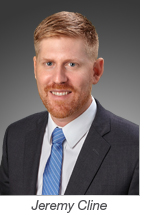 WINSTON-SALEM, N.C. (October 28, 2021) – Truliant Federal Credit Union has promoted Jeremy Cline to the newly created position of senior director of member success and loyalty. Cline previously was director of member satisfaction.
He will take on lead responsibility for coordinating Truliant's Client Relationship Management system. Truliant plans to leverage this technology to reimagine and enhance the ways it serves its member-owners. He reports to Chris Murray, chief member experience officer.
Cline, who has held a variety of roles during his 15-year career at Truliant, will continue to oversee the Member Satisfaction group, which collects, interprets and disseminates survey responses. The team then develops and leads initiatives to take specific action based on member experiences in the surveys.
"In each of his roles at Truliant, Jeremy has shown a passion for ensuring the delivery of quality service," Truliant's Murray said. "We look forward to his continued contributions in shaping initiatives that deepen relationships and engagement with our member-owners."
Cline has a bachelor's degree in business management and finance from North Carolina State University. He is enrolled in the MBA program at the McColl School of Business at Queens University of Charlotte. He is scheduled to graduate in December with a concentration in leadership and change.
---
About Truliant Federal Credit Union Truliant is a mission-driven, not-for-profit financial institution that promises to always have its member-owners' best interest at heart. It improves lives by providing financial guidance and affordable financial services. Truliant was chartered in 1952 and now serves 280,000+ members. Truliant has more than 30 Member Financial Centers in North Carolina, South Carolina and Virginia.

FOR MORE INFORMATION
Contact: Heath Combs
[email protected]
(o) 336.293.2054 (c) 336.442.5736