Truliant Makes Strategic Investment in Posh Technologies
Truliant Makes Strategic Investment in Posh Technologies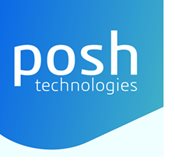 WINSTON-SALEM, N.C. (May 11, 2021) – Truliant Federal Credit Union announced today an investment in Posh Technologies, a Boston-based fintech company. Posh will deploy its full conversational AI product suite to support Truliant's banking ecosystem.
Truliant joins a group of 15 other credit unions funding Posh. The fintech uses artificial intelligence and natural language processing to create back-end infrastructure solutions. Posh will deploy its chatbots and phone bot to automate Truliant's contact center workflows.
"Fintech collaboration will bring more simplicity and speed to how members interact with our services. Posh can quickly build and scale Truliant specific AI-based solutions to create better tech-driven experiences," said Todd Hall, president and CEO of Truliant.
Truliant will create an AI lab to partner with Posh. The lab will work with Posh to integrate AI technology and innovate next-gen experience for members within its broader technical ecosystem.
"Posh knows how to work with credit unions. Their technologies reflect an understanding of our culture and that Truliant's business model is grounded in member-service," said Sandeep Uthra, Truliant's chief information officer.
Founded in 2018, Posh was born out of graduate research done at MIT by co-founders Karan Kashyap and Matt McEachern. Posh works with more than thirty credit unions and specializes both in front and behind the pin technology. Posh's chatbots will be used on Truliant's website as well as within its online banking system. Its conversational IVR bot will integrate with Truliant's telephony and contact center technology. Posh's bots will create an exceptionally fast and accurate member service experience.
"Truliant understands that our members want intuitive experiences that reduce effort and add convenience," said Rik Kielbasa, chief digital officer. "Working with Posh allows us to design experiences that meet these expectations. We look forward to working with a partner that is a recognized industry leader in artificial intelligence."
Truliant made its investment through a Credit Union Service Organization (CUSO), entities that deliver non-traditional services for credit unions.
"We're thrilled to partner with Truliant," said Kashyap, co-founder and CEO at Posh. "We look forward to freeing up their Member Contact Center to focus on the most urgent and complicated calls while elevating the overall banking experience for Truliant members."
About Posh Technologies
Posh is a Conversational AI company that helps financial institutions automate their contact center FAQs and banking workflows through intelligent chatbots and phone bots. Posh's phone bots replace traditional, clunky touchpad menus with a voice-driven experience. Instead of "Press 1 for this, Press 2 for that, Press 3 for this," members calling into institutions using Posh are simply greeted with "Hi, how can I help you?" Posh spun out of MIT over two years ago. For more information visit
posh.tech
.
---
About Truliant Federal Credit Union
Truliant is a mission-driven, not-for-profit financial institution that promises to always have its member-owners' best interest at heart. It improves lives by providing financial guidance and affordable financial services. Truliant was chartered in 1952 and now serves 270,000+ members. Truliant has more than 30 Member Financial Centers in North Carolina, South Carolina and Virginia.
FOR MORE INFORMATION
Contact: Heath Combs
[email protected]
(o) 336.293.2054 (c) 336.442.5736