Security Alerts
Keep your accounts and identity safe with these security tips.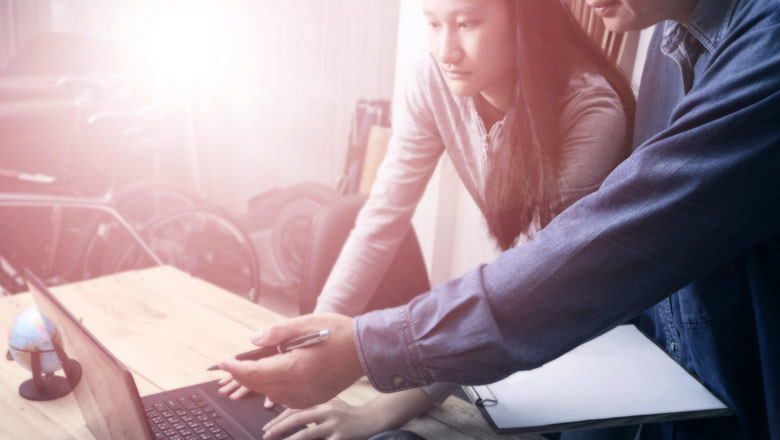 Never provide your confidential banking or personal information to anyone other than a reputable merchant you trust. If you do, you risk being held responsible for any potential losses. If something doesn't seem legitimate, it probably isn't!
Online Security and Avoiding Fraud
Don't be a victim!
There are many types of fraud that are constantly evolving year after year. However, the majority usually have several things in common: a victim's good nature, a victim's lack of banking/financial knowledge, and/or a victim's poor financial situation. More often the victims are very young or elderly.

Truliant staff members stay alert for fraud and are constantly defending against it. However, not all cases can be prevented without the help and awareness of our members. By working together, and identifying key components that trigger suspicion, we can pursue investigation early and partner with local and national anti-fraud efforts.

Staying ahead of the curve and being aware of the more common scams is the best way to avoid fraud. Most ongoing scams have similar traits, and they become easier to identify. Another thing to remember is that strangers don't give away money. Again, if it seems too good to be true... it probably is.

If you believe you have fallen victim to any type of fraud relating to your account(s), please call us at 800.822.0382 as soon as possible.

Learn more about protecting yourself against fraud at the Federal Trade Commission.
Common Scams
Phone Spoofing
Scammers use a tactic called spoofing to disguise their identity in your caller ID. Spoofing makes it appear that an incoming call comes from a company or individual that you know.

By using scripts that sound authentic, scammers take advantage of your trust and try to steal personal information for fraudulent activity. Often, a sense of urgency is involved in their requests.

Don't answer calls from unknown numbers and don't return calls from numbers you can't identify. Be careful about responding to requests asking to for personal information. Use caution if you are pressured for immediate information.

If you get an inquiry from someone who says they represent Truliant with an urgent request for information or money, check the phone number, hang up and call 800.822.0382 to verify the authenticity of the request.

Additionally, you may want to consult with someone you trust before making a big financial decision.

If you answer the phone and the caller - or a recording - asks you to hit a button to stop getting the calls, you should hang up. Scammers often use this trick to identify potential targets.

Scammers may threaten legal action if you do not send immediate payment, or claim you have to call a separate number to process a payment. This is a clue that the call may not be legitimate. Truliant agents will never use threatening language in a phone call.
Phony Websites
You've probably heard the phrase, "Imitation is the sincerest form of flattery," but when it comes to impersonating websites, this couldn't be further from the truth.

Phony websites may look like a real version of a website, but in fact, they may be a resource for gathering account information or credit and debit card numbers. They are often tied to fake social media sites, emails, limited-time offers and 'unbeatable' deals.

Keep your accounts safe by paying close attention to web addresses to be sure you're on your intended website. Watch for spelling errors and double-check that the customer service number is correct.
Do not simply trust the look of an email: question the intent of the email. Is it ultimately asking you to verify or enter personal information?
Before clicking on anything, check the email address of who sent it. If it doesn't look normal ([email protected]), it is likely spam or fraudulent.
If you receive a suspicious email with a link from a known contact, confirm the email address is legitimate by calling or emailing the contact; do not reply directly to a suspicious email.
Check for misspellings, poor grammar or incorrect domains within any links (e.g., if an address that should end in ".gov" ends in ".com" instead).
Do not trust a website just because it has a lock icon or "https" in the browser address bar. Always carefully check the URL to be sure that you're on the right website.
Phishing
Be aware of an internet email fraud form known as phishing. This practice refers to fraudulent email messages requesting confidential information. The information then allows the perpetrator to gain access to the victim's accounts and steal the victim's identity. This may include
Emails asking you to reset account information, restore access or for confidential information
Suspicious, unsolicited emails containing attachments or requiring members to send personal information to us via email or pop-up windows
Maintenance/Account Recovery emails
​Please remember that Truliant will never ask for personal or account information by email. However, if you do receive one of these types of emails above,
Do not respond to the email in any way
Do not click any links
Do not open any attachments
Do not provide any data to any websites
Reporting Fraudulent Activity
If you believe you are a victim of phishing, it is important that you change your password, monitor the activity in your account for a period of time and even contact credit reporting services to have a fraud alert attached to your credit report file.

Also, please notify Truliant's Contact Center at 800.822.0382.
Check Scams
The most common check scams involve a person receiving a generous check instructing them to send cash or wire funds from the check proceeds to another person or company. What ends up happening is the check returns as a fraudulent check, and they are held responsible for the loss of the funds due to the return of the check. Below are common check scams that are seen on a daily basis.
Lottery Winner
The victim is mailed a check along with a letter stating they are the lucky lottery winner. The victim is then instructed to deposit the check and send a portion of the funds back to pay for the processing and taxes for the larger lottery winnings. The check that is attached to the letter will have been written off of a company or individual's account that is in no way associated with the lottery.

Secret Shopper and Work-From-Home
Fraudsters create job postings or create a website advertising work from home jobs or to become a secret shopper to earn extra income. Often these sites advise the prospective victim to deposit a check and then to wire the majority of the money to a third party to purchase office equipment or to test the institution's customer service levels.

Overpayment
One of the trending internet check scams is found on sale sites such as Craigslist or eBay. The victim sells an item and receives a check for 2-5 times the agreed-upon sale price. The purchaser advises the Seller they wrote the check out for too much money by accident and for the Seller to send back the difference to them. Often the Purchaser will tell the Seller to keep the sales price of the item sold along with $50 for taking the time to wire the funds back to the Purchaser.
Debit Card and Online Banking Scams
These types of scams typically involve connecting with the victim on social media sites or for online payday loan offers requesting the victim's debit card and PIN number and/or the victim's online banking username and password.
Debit Card Scams
The victim is contacted utilizing social media sites such as Facebook, Instagram, Twitter, etc. The fraudsters tell the victim that they need to use local bank accounts to conduct some business transactions and will leave some money in the victim's account for the use of their debit card and PIN number and/or online banking username and password.

Once the victim agrees, the fraudsters deposit fraudulent checks into the account via ATMs and/or remote deposit. The fraudsters then make ATM withdrawals and purchase Visa or GreenDot prepaid cards to convert into cash later. The victim is left responsible for the losses to the account due to their participation in the scam by giving their card and information to the fraudsters.
Payday Loan Schemes
The victims of this scheme are in need of a small loan to help make ends meet. The victim signs up with an online loan website and is quickly approved for a small loan with no questions asked. The fraudulent loan company will ask for the victim's online username and password and states that they need the information in order to transfer funds to the victim's account.

The fraudulent loan company then instructs the victim to send the money back to them to ensure the loan applicant (victim) is trustworthy. The fraudulent loan company actually deposited fraudulent checks into the victim's accounts through the online banking application. The victim is left with a negative balance due to the checks deposited by the fraudulent loan company.