Tyvola Rd
6051 Tyvola Glen Circle
Charlotte, NC 28217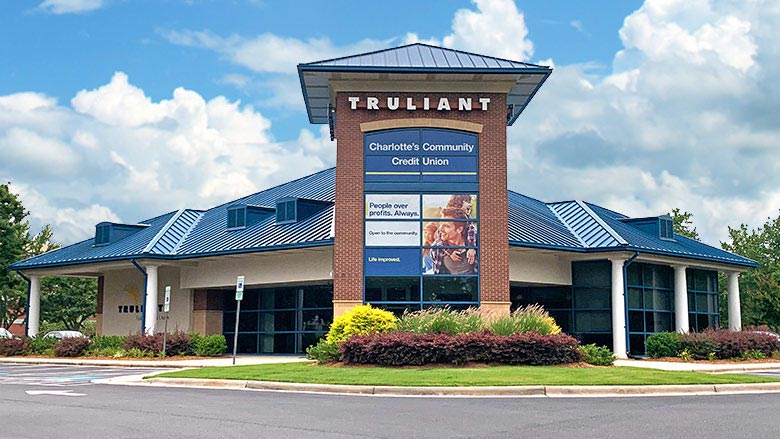 Lobby Hours
Monday - Thursday: 9:00 am - 5:00 pm
Friday: 9:00 am - 6:00 pm
Saturday: 9:00 am - 12:00 pm
Drive-Thru Hours
Monday - Thursday: 9:00 am - 5:00 pm
Friday: 9:00 am - 6:00 pm
Saturday: 9:00 am - 12:00 pm
Branch Services
Change Exchange Machine
Drive-Thru
Drive-Up Tru2Go ATM
Night Depository Access
Saturday Drive-Thru
Saturday Lobby Hours

Get Directions to Truliant Tyvola Rd
---
Branch Contact
Truliant Federal Credit Union's Tyvola branch
The Tyvola branch is one of seven member service centers Truliant operates in Charlotte. Truliant supports the Hispanic Heritage Festival and many other community focused groups. The Tyvola office is touted as "Charlotte's Community Credit Union".
Charlotte, NC is the second largest banking center by assets held, trailing only New York. It is home to the NFL Carolina Panthers, the NBA Charlotte Hornets and the NASCAR Hall of Fame. With close proximity to beautiful mountains and beaches, along with very enjoyable year-round weather. Charlotte it is the second-largest populated city in the southeast (874,579) after Jacksonville, FL (949,611), according to a 2020 census.
Tyvola FAQ's
When was this Tyvola branch opened?
Truliant relocated the Clanton Rd. branch to Tyvola Rd., holding its grand opening in March of 2005.
What is a nearby landmark people can relate to?
Truliant is located beside the beautiful Wingate by Wyndham Charlotte Airport South/I-77 Tyvola.
Does this branch have distinguishing characteristics?
The Tyvola branch is easily distinguishable with our branded blue roof.
Who is the branch manager?
Ashlee Walker is the manager for the Truliant Tyvola branch.
What community events or charities, local to this branch, does Truliant support?
Does this branch have an insurance agent onsite?
Truliant agents are available onsite and online.
Request a quote
or schedule a meeting to meet at any Truliant branch.
Does this branch have a loan specialist onsite?
Truliant has Member Service Specialists onsite ready to assist with accounts, services and loans. Truliant has a Branch Coordinator and a Branch Manager, all of whom can do these services. Applications can be processed on the spot.
Does this branch have a financial advisor onsite?
A Truliant financial advisor is available to meet with members at any branch.
Schedule an appointment
and learn more about our financial services.
Does Tyvola have anything for children?
Truliant's Tyvola Rd. location features a kids' area, complete with a video monitor and pint-sized tables and chairs.

For the adult crowd, plasma screens with a live feed of news, weather and cable programming.