Truliant Promotes Bright to Vice President, Organizational Development and Training
Truliant Promotes Bright to Vice President, Organizational Development and Training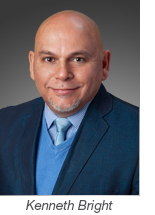 WINSTON-SALEM, N.C. (August 18, 2021) – Truliant Federal Credit Union has promoted Kenneth Bright to the role of vice president, organizational development and training.
Bright will be responsible for constructing engaging employee experiences that directly impact the member experience and foster the credit union's core values of member focus, service, guidance, and relationships. His role encompasses all aspects of employee learning journeys, leadership development and building employee engagement programs that ensure the successful immersion of employees into Truliant's workplace culture. He reports to Sherri Thomas, chief administrative officer.
"Kenneth has always had a strong passion for helping people succeed," Truliant's Thomas said. "He believes in helping others discover and unleash their true talents and skills so they have opportunities to reach their full potential."
Bright came to Truliant in 2012 as a training manager. Some of his key achievements include the development of a Vital Basics training program on executing the Truliant mission, Truliant Academy for overall employee learning management and the Truliant Library as a centralized knowledge and essential documents repository. In 2014, Bright was promoted to director of organizational development and training. In 2019, he became a senior director, taking on the additional responsibility of talent acquisition.
Bright has been integral in cultivating Truliant's culture. He has successfully directed training programs that instill virtues to help employees meet member-owner needs and improve financial lives. He joined Truliant with more than 20 years of learning, development and human resources experience in multiple industries. He created and implemented organizational-development training programs throughout the U.S., Canada and the Dominican Republic.
Bright has a bachelor's degree in media arts from the University of South Carolina. He is a certified master trainer in Development Dimensions International's training and facilitation skills modules and in their behavioral-based interviewing system. Bright also has multiple certifications in the Franklin Covey leadership programs.
---
About Truliant Federal Credit Union Truliant is a mission-driven, not-for-profit financial institution that promises to always have its member-owners' best interest at heart. It improves lives by providing financial guidance and affordable financial services. Truliant was chartered in 1952 and now serves 280,000+ members. Truliant has more than 30 Member Financial Centers in North Carolina, South Carolina and Virginia.

FOR MORE INFORMATION
Contact: Heath Combs
[email protected]
(o) 336.293.2054 (c) 336.442.5736