Truliant Names Thomas Chief Administrative Officer
Truliant Names Thomas Chief Administrative Officer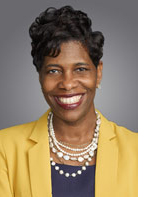 WINSTON-SALEM, N.C. (January 26, 2021) – Truliant Federal Credit Union has appointed Sherri Thomas to the role of chief administrative officer. Thomas was previously chief human resources and organizational development officer.

In this role, Thomas will be responsible for the strategic direction and oversight of Truliant's Diversity, Inclusion and Equity program. She will continue to have responsibility for all of the human resource areas, recruiting, training, organizational development, community engagement, government affairs and Truliant at Work, the credit union's B2B workplace benefits program.

"Sherri has shown phenomenal leadership during her decade at Truliant. She continues to grow in her role, and she is the right person to provide leadership around complex topics as we accelerate efforts to build a more equitable workplace," said Todd Hall, president and CEO of Truliant.

Thomas joined Truliant in 2010 as regional director of its central region of Member Financial Centers. Thomas has served in several executive roles while at Truliant. In 2013, she became vice president of member experience for Truliant's Member Contact Center and Member Channel Support. She has played a key role in skills assessment, training needs, coaching and employee development.

In 2017, she was named senior vice president of human resources and organizational development, leading efforts that increased the credit union's minimum hourly wage to $15. Thomas was instrumental in expanding Truliant's employee volunteer plan. She is a Triad Business Journal 2019 Outstanding Women in Business winner and the credit union has won multiple Best Place to Work awards from the publication during her tenure.

Thomas is a member of the Greensboro Chamber of Commerce board of directors. She also serves as a member of the Bryan School Board of Advisors at her alma mater, the University of North Carolina at Greensboro, and on Elon University's Black Life Advisory Council. Thomas has a Master of Business Administration degree from Elon University.
---
About Truliant Federal Credit Union
Truliant is a mission-driven, not-for-profit financial institution that promises to always have its member-owners' best interest at heart. It improves lives by providing financial guidance and affordable financial services. Truliant was chartered in 1952 and now serves 267,000+ members. Truliant has more than 30 Member Financial Centers in North Carolina, South Carolina and Virginia.
FOR MORE INFORMATION
Contact: Heath Combs
[email protected]
(o) 336.293.2054 (c) 336.442.5736