Truliant Promotes Averill to Senior Director of Member Service Operations
Truliant Promotes Averill to Senior Director of Member Service Operations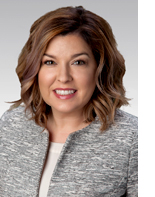 WINSTON-SALEM, N.C. (January 28, 2021) – Truliant Federal Credit Union has promoted Emily Averill to the newly created position of Senior Director of Member Service Operations. Previously, Averill was the Director of Member Financial Center Operations.

In her new role, Averill will add responsibility for Truliant's Member Dispute Resolution Team, created to centralize the dispute process.

She will continue to oversee Truliant's Associated Products and Services Department which manages the performance of ancillary items such as payment protection and Truliant Insurance Services. She will also continue to be responsible for Member Financial Center Operations, which governs the operational components of the branch network including policies, procedures, compliance, audit, security, safety and the overall operational effectiveness of the Member Financial Centers.

"Emily joined Truliant more than 17 years ago and she has consistently proven her ability to develop teams focused on improving our member-owners' experience. I'm confident she'll continue to distinguish herself in the area of operational excellence through this role," said Kim Alderman, Vice President of Member Experience at Truliant.

Averill has worked in several areas during her career at Truliant. She was named Director of Member Financial Center Operations in 2017.

Averill is founder and president of One Life Rescue in Winston-Salem, a nonprofit organization dedicated to defending the rights and welfare of animals. She also serves on the board of the The Women's Fund in Winston-Salem, an organization collaborating and engaging in creating an equitable, inclusive community for women and girls in Forsyth County.
---
About Truliant Federal Credit Union
Truliant is a mission-driven, not-for-profit financial institution that promises to always have its member-owners' best interest at heart. It improves lives by providing financial guidance and affordable financial services. Truliant was chartered in 1952 and now serves 267,000+ members. Truliant has more than 30 Member Financial Centers in North Carolina, South Carolina and Virginia.
FOR MORE INFORMATION
Contact: Heath Combs
[email protected]
(o) 336.293.2054 (c) 336.442.5736