Gami Joins Truliant as Vice President of Payments
Gami Joins Truliant as Vice President of Payments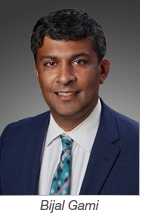 WINSTON-SALEM, N.C. (October 28, 2021) – Truliant Federal Credit Union has hired Bijal Gami to the newly created role of Vice President of Payments.
In this position, he is responsible for the architecture and vision of Truliant's enterprise card payment strategy and card payment transformation. Gami reports to Chief Digital Officer Rik Kielbasa.
"We're excited about the scope of Bijal's experience and the contributions he will bring to our payments program," Truliant's Kielbasa said. "His proven ability to advance the payments solutions area will be essential to ensuring Truliant meets our members' expectations in new and innovative ways."
Gami has more than a decade of experience working with credit unions. Most recently he was Vice President of Operations for Civic Federal Credit Union in Raleigh, N.C., where he focused on developing a digital-first credit union. Other focus areas include operations management, analysis, budgeting, process development, project management, and cross-functional team leadership.
Gami has a bachelor's degree in finance from North Carolina State University. He is a past participant of the Filene Institute's i3 innovation leadership program and is a graduate of The National Credit Union Foundation's Credit Union Development Educator (CUDE) program. He is a graduate of the Raleigh Chamber of Commerce's Leadership Raleigh program.
---
About Truliant Federal Credit Union Truliant is a mission-driven, not-for-profit financial institution that promises to always have its member-owners' best interest at heart. It improves lives by providing financial guidance and affordable financial services. Truliant was chartered in 1952 and now serves 280,000+ members. Truliant has more than 30 Member Financial Centers in North Carolina, South Carolina and Virginia.

FOR MORE INFORMATION
Contact: Heath Combs
[email protected]
(o) 336.293.2054 (c) 336.442.5736