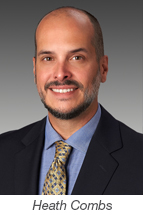 Heath Combs is Truliant's Public Communications Strategist. He is a longtime writer for news and business trade publications and an experienced copywriter and public relations professional. Combs graduated from West Virginia University's Perley Issac Reed School of Journalism in 2003 with a major in News Editorial. While there, he was part of a team that won a Midwestern Regional Emmy for their documentary "Cancer Stories: Lessons in Love, Loss and Hope."

Combs served as a general assignment reporter at the Cumberland Times-News before joining the High Point Enterprise as a business reporter. Combs also served for seven years as an industry trade reporter at Furniture/Today in Greensboro, N.C., where he wrote and co-wrote several investigative series, in addition to providing business and regulatory coverage. While there, his sustainability-focused newsletter, entitled "Green," was awarded a HOME Award by the American Home Furnishings Alliance.

Combs joined Truliant in 2014, where he manages social media, public relations and marketing initiatives, with focuses including regional expansion, strategic partnerships, historical background, new business initiatives, and awards. Combs also serves as the President of Empire Toastmasters in Winston-Salem, N.C., and is a youth soccer coach.

Comb's recent work can be viewed in the related topics sidebar, or on our Press Release page. His contact information is [email protected], or call 336.293.2054 (office) or 336.442.5736 (cell).

Related Topics