Truliant Names Calderon Senior Vice President, Diversity, Inclusion, and Equity
Truliant Names Calderon Senior Vice President, Diversity, Inclusion, and Equity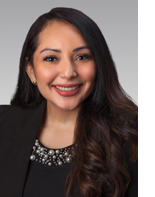 WINSTON-SALEM, N.C. (February 5, 2021) – Truliant Federal Credit Union announced today that it has named Veronica Calderon to the newly created role of senior vice president, diversity, inclusion, and equity.

The role was created to formalize diversity, inclusion, and equity principles and practices into Truliant's workplace culture, member service and philanthropy. She will work with the credit union's leadership to ensure the successful implementation of diversity initiatives. Calderon reports to Sherri Thomas, Chief Administrative Officer.

"As we amplify our focus in this critically important area, Veronica brings a wealth of experience fostering more diverse and inclusive environments. She will ensure these values are infused into our everyday business practices," Thomas said. "Her hiring underscores the need to build accountability and transparency into our commitment to evolve these policies in tangible ways."

Calderon has more than a decade creating accountability in organizations around diversity, inclusion, and equity. Most recently, she served as Chief Diversity and Inclusion Officer at Aldersgate Life Planned Organizations. She has also held other distinct roles building and implementing organizational diversity, inclusion, and equity strategic initiatives. She brings experience from both of the largest employers in Charlotte, N.C., Atrium Health Systems and Wells Fargo, where she worked to minimize healthcare and financial disparities in marginalized communities.

Calderon serves on the Executive Board of Directors of the non-profit Communities in School of Charlotte-Mecklenburg, and Vice-Chair of the Latin American Chamber of Commerce and is a board member of the Freedom Center for Social Justice. She is a prior University of North Carolina at Charlotte Empowering Latina Woman of the Year and La Noticia Excelente Awards: Business Woman of the Year winner. She holds Cornell University's HR Diversity & Inclusion Certificate, a Charlotte Chamber Emerging Business Leaders Certificate, a certificate from the Community Building Initiative on Leadership Development Initiative focused on DI&E, and a SHRM Human Resources and Diversity and Inclusion Certificate.

Calderon has a Bachelor of Administration in Business Management, Concentration in Human Resources, from the University of North Carolina at Charlotte. She has a master's degree in Business Administration, Concentration in Finance, from Belk College of Business and the University of Phoenix.
---
About Truliant Federal Credit Union
Truliant is a mission-driven, not-for-profit financial institution that promises to always have its member-owners' best interest at heart. It improves lives by providing financial guidance and affordable financial services. Truliant was chartered in 1952 and now serves 267,000+ members. Truliant has more than 30 Member Financial Centers in North Carolina, South Carolina and Virginia.
FOR MORE INFORMATION
Contact: Heath Combs
[email protected]
(o) 336.293.2054 (c) 336.442.5736