Truliant to Open Second High Point Location
Truliant to Open Second High Point Location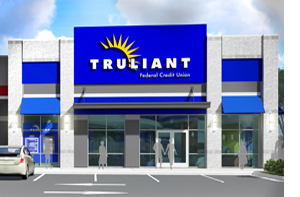 WINSTON-SALEM, N.C. (March 24, 2021) – Truliant Federal Credit Union announced today that construction is underway on a new branch in High Point, N.C. Located at 2305 N. Main Street, the credit union is planning to open the branch in the fourth quarter.
The 3,250-square-foot branch is Truliant's second in High Point. It will be located in a dual-tenant space at the former Carter Brothers barbecue site, and also feature a full-service, walk-up ATM. The branch is Truliant's latest in a Triad expansion that began in 2018. The building and interior space was designed by ArchStudio 7.
"We're excited to provide a new location for our High Point members. They've continued to embrace our credit union, which has allowed us to grow as a partner," said Kim Alderman, vice president, member experience. "This branch will enable us to deepen relationships by offering more convenient access to Truliant's services."
In 2006, Truliant opened a location at 4006 Mendenhall Oaks Parkway in High Point. The credit union will have 17 branches and a commercial lending office in the Triad when the High Point location is complete. Truliant will open a branch in Graham, N.C. in Alamance County, later this year.
With an open-floor plan and teller pods that remove barriers and allow for a more consultative approach to member interactions, Truliant locations feature a unique design concept that focuses on service and a high-quality member experience.
---
About Truliant Federal Credit Union
Truliant is a mission-driven, not-for-profit financial institution that promises to always have its member-owners' best interest at heart. It improves lives by providing financial guidance and affordable financial services. Truliant was chartered in 1952 and now serves 270,000+ members. Truliant has more than 30 Member Financial Centers in North Carolina, South Carolina and Virginia.
FOR MORE INFORMATION
Contact: Heath Combs
[email protected]
(o) 336.293.2054 (c) 336.442.5736