Wishnek Promoted to Vice President for Charlotte Commercial Market
Wishnek Promoted to Vice President for Charlotte Commercial Market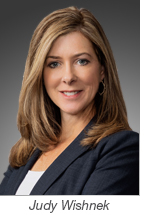 WINSTON-SALEM, N.C. (August 20, 2021) – Truliant Federal Credit Union has promoted Judy Wishnek to vice president, commercial market executive for the Charlotte-Metro regional market. In her new position, Wishnek will join Truliant's senior management team.
Wishnek joined Truliant in 2019 as the commercial market executive for the Charlotte-Metro regional market. In her elevated role, she will be involved in setting the strategic direction of the commercial line of business, including enhanced product development, staffing, process alignment and the assessment of market expansion opportunities.
She will continue to manage Truliant's Charlotte business lending office and oversee its business lending officers, and the credit union's regional loan portfolio and commercial real estate investments. She reports to Stephen C. Koelsch, senior vice president, commercial lending for Truliant.
"Since joining Truliant, Judy has been a superb leader for our commercial office in Charlotte," Truliant's Koelsch said. "During the pandemic, Judy and her team successfully delivered Paycheck Protection Program loans across the Charlotte market. Under her leadership, our Charlotte commercial team has experienced significant growth, further strengthening Truliant's business lending program."
Throughout her career, she has held leadership roles, and managed complex commercial and industrial portfolios, supporting a range of businesses. Before joining Truliant, she was a senior vice president for Capital Bank in the commercial lending area in Charlotte following the acquisition of Community One Bank. Her commercial lending career began in the early 1990s. She spent several years at Bank of America Merrill Lynch and at Wells Fargo.
Wishnek has been an active and distinguished leader in the Charlotte community. She is a board member of the Central Piedmont Community College Foundation, Charlotte Ballet, Charlotte Regional Business Alliance Board of Trustees, and Women Executives of Charlotte, and is a member of the Charlotte Rotary. She is a past Mecklenburg Times Most Influential Woman and a Charlotte Business Journal Top Woman in Business.
Wishnek has a bachelor's degree in accounting from Radford University. She is a graduate of Leadership Charlotte.
---
About Truliant Federal Credit Union Truliant is a mission-driven, not-for-profit financial institution that promises to always have its member-owners' best interest at heart. It improves lives by providing financial guidance and affordable financial services. Truliant was chartered in 1952 and now serves 280,000+ members. Truliant has more than 30 Member Financial Centers in North Carolina, South Carolina and Virginia.

FOR MORE INFORMATION
Contact: Heath Combs
[email protected]
(o) 336.293.2054 (c) 336.442.5736