Lam-Balfour Named Program Director for Truliant Financial Advisors
Lam-Balfour Named Program Director for Truliant Financial Advisors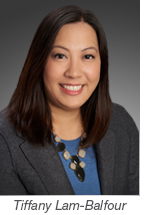 WINSTON-SALEM, N.C. (February 9, 2022) – Truliant Federal Credit Union announced today that it has named Tiffany Lam-Balfour as the new Program Director for its Truliant Financial Advisors program.

She will lead Truliant Financial Advisors as it provides members-owners with financial planning, investment and insurance options tailored to their unique needs. Lam-Balfour reports to Chris Murray, chief member experience officer.

"Tiffany has an established track record for providing high-quality guidance that helps clients and everyday investors better navigate their financial futures," Truliant's Murray said. "Her depth of knowledge in wealth management and financial planning makes her well-suited to build on our standards of excellence."

Most recently, Lam-Balfour was a lead writer and spokesperson on NerdWallet's investing team, with work published in MSN, Nasdaq, MarketWatch, Yahoo Finance, Entrepreneur, The Street and more. As their investing and retirement spokesperson, she has appeared on NBC Richmond, FOX 11 Los Angeles, and been quoted by USA Today, NPR and Forbes, among others.

She also previously served as a senior financial advisor and sales manager at Merrill Lynch in Greensboro, N.C. and spent nearly a decade in investment banking and investment management at Credit Suisse and UBS in New York, Boston, Chicago and Shanghai.

She has a bachelor's degree in economics from The Wharton School of the University of Pennsylvania with a dual concentration in Finance and Management, and an International Master of Business Administration degree from The Antai College of Economics and Management at Shanghai Jiao Tong University.

Lam-Balfour serves as a member of the Guilford College Business Advisory Board and on the board of the Community Foundation of Greater Greensboro (CFGG), and is chair of its Professional Advisors Committee. Lam-Balfour also serves as co-chair of the Triad Pan Asian American Network, a CFGG initiative.
---
About Truliant Federal Credit Union:
Truliant is a mission-driven, not-for-profit financial institution that promises to always have its member-owners' best interest at heart. It improves lives by providing financial guidance and affordable financial services. Truliant was chartered in 1952 and now serves 280,000+ members. Truliant has more than 30 Member Financial Centers in North Carolina, South Carolina and Virginia..

FOR MORE INFORMATION
Contact: Heath Combs
[email protected]
(o) 336.293.2054 (c) 336.442.5736
Related Topics