Truliant Promotes Eller to Senior Vice President of Mortgage Lending
Truliant Promotes Eller to Senior Vice President of Mortgage Lending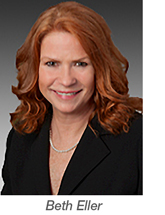 WINSTON-SALEM, N.C. (Dec. 20, 2022) – Truliant Federal Credit Union announced today it has promoted Beth Eller to the newly created role of senior vice president of mortgage lending.
Eller has led significant growth in Truliant's mortgage department. She will continue to be responsible for its management, performance, growth, administration and strategic direction.
A veteran of the mortgage lending industry, Eller joined Truliant in 2019 as vice president of mortgage lending. She has grown the mortgage department from 15 employees to about 50 employees. Among her accomplishments, Eller steered Truliant to become the first North Carolina financial institution to complete a paperless, end-to-end electronic mortgage eClosing, in which the buyer, notary and attorney were in different physical locations.
She additionally led Truliant's introduction of Federal Home Loan Bank (FHLB) Set Aside Funds for mortgages; the sale of eNotes from Truliant to Freddie Mac as collateral for mortgage-backed securities; and the delivery of the southeast's first electronic promissory note (eNote) to the FHLB in Atlanta. She helped develop a Third Party Origination channel at Truliant to help facilitate the sale of mortgages from other financial institutions.
In 2022, Eller led the introduction of Veterans Administration loans at Truliant, and she played a key role in creating United Members Title, a title insurance agency. In 2023, she will lead expansion of the mortgage program in Upstate South Carolina, where Truliant is opening new branches.
Eller serves on the N.C. Secretary of State's Mortgage eClosing Advisory Committee. She graduated from the University of North Carolina Chapel Hill and has attended executive leadership programs at Wake Forest University and the Stonier School of Banking at the University of Pennsylvania.
---
About Truliant Federal Credit Union
Truliant is a mission-driven, not-for-profit financial institution that improves lives by providing great service and straightforward financial solutions. It improves lives by providing financial guidance and affordable financial services. Truliant was chartered in 1952 and now serves 300,000+ members. Truliant has 30+ branch locations in North Carolina, South Carolina and Virginia.

FOR MORE INFORMATION:
Contact: Heath Combs
[email protected]
(o) 336.293.2054 (c) 336.442.5736