What Type of Home Loan is Right for You?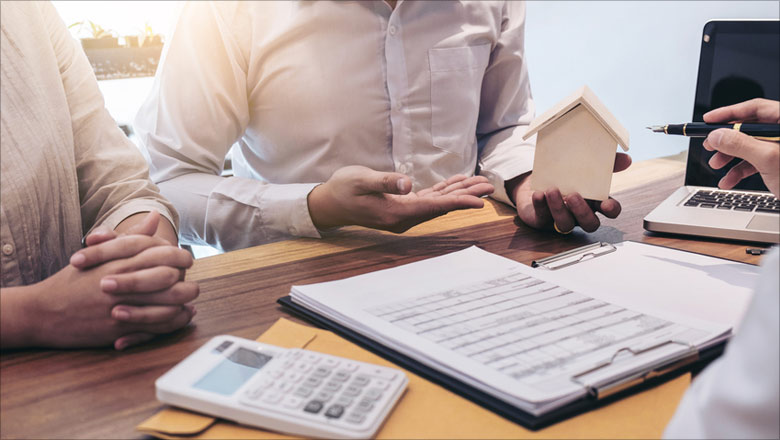 Finding the perfect home is only half of the home-buying process.
The other half, obviously, is the mortgage.

While some people can purchase a home without a mortgage, a home loan is required in most cases. And there are plenty of options out there. Since mortgages are typically paid back over a long period of time, it's important to make sure you get the best one for your needs.

There is no clear winner among all of the mortgage options out there. Different mortgages work for different people in different situations, so it's best to familiarize yourself with all of the options out there and work with a mortgage loan officer to find the best home loan for you.

Answer the following questions to help prioritize your needs. The best mortgage for you will depend on the answers:
What options feature the lowest monthly payment?
What options require the lowest down payment?
What's my credit score and how does that affect my options?
Am I eligible for government-backed loans?
What's it going to cost me less in the long run?
How long am I planning on staying in my home?
Now let's take a look at some common mortgage options and when they typically make sense for a home buyer. Again, depending on your needs, your credit, your down payment amount – and even where you live – your ideal mortgage may not be the best option for someone else.

Conventional Mortgage

Very simply, a conventional mortgage is a mortgage not backed by the federal government, like a USDA loan or a FHA loan. As with any loan, good credit, a solid employment history and cash on hand to make even a small down payment are important. Conventional loans are very popular because they feature flexible terms, like fixed and adjustable rates and loan lengths up to 30 years, plenty of down payment options and great rates. Plus, you won't have to pay monthly mortgage insurance once you have 20% equity in your home.

Fixed Rate Mortgage

A fixed rate mortgage offers a fixed interest rate over the life of the loan. You'll save money on interest, build equity in your home faster, and lower the term of the loan. Fixed-rate options are better for homebuyers who plan to stay in the home for many years.

Adjustable Rate Mortgage

An adjustable rate mortgage, or ARM, has a fixed rate for an initial period of time, usually three to 10 years, at which point the rate can go up or down depending on market conditions. Many ARMs, like Truliant's, offer a rate cap – meaning you'll know up front the maximum your rate can increase over the life of the loan. Typically, ARM rates are lower than fixed rates, so they tend to work better for buyers who are not planning to stay in the home for a long period of time, or will refinance later. That noted, many homebuyers are very happy with their adjustable rate mortgage across the duration of the loan – especially if there's a rate cap.

First Time Homebuyer Mortgage

Many states offer programs for first-time homebuyers who may not have a down payment in hand or lower-than-ideal credit. A government-backed FHA loan is a popular choice for many first-time homebuyers for these reasons. However, there are conventional loans available, as well. If you're credit score is 700+, for instance, Truliant offers the HomePath100, a 5/5 ARM with a 30-year maturity that offers 100% financing at a great rate. This is a good choice for a credit union mortgage loan.

It's important to review all of your options because your credit score will affect the down payment required in most cases, even with an FHA loan.

Government-Insured FHA Loan

The U.S. government does not function as a mortgage lender, but it does guarantee certain types of mortgage loans. As stated above, FHA loans are very popular for many first-time homebuyers, or buyers with lower credit scores. Backed by the Federal Housing Administration, an FHA loan has more relaxed credit score requirements and down payments as low as 3.5%. The FHA will back loans with credit scores as low as 500, but a larger down payment – about 10% - is required. Additionally, mortgage insurance is required for the life of the loan.

Government-Insured USDA Loan

The U.S. Department of Agriculture guarantees these loans to lower-income buyers in rural areas across the country. Little or no money down is required for qualified buyers, but the home must meet eligibility rules. This mortgage option is ideal for potential homeowners in eligible rural communities with lower incomes who don't have a large down payment.

Government-Insured VA Loan

The U.S. Department of Veterans Affairs backs loans for qualified active military service members, veterans and their spouses. Homebuyers may finance up to 100% of the loan amount, with lower closing costs and less fees. In some cases, there is a funding fee, depending on your service category and the overall loan amount.

VA loans are great for active military personnel, veterans or spouses who want competitive terms and no down payment.

Truliant Mortgage Services can help you find the perfect mortgage for you, and your budget. Let us help guide you through the process with a mortgage tailored specifically for your needs. We can even help you save money on your current mortgage by refinancing to get a lower rate or more favorable terms. Explore the many mortgage or refinancing options we offer by visiting a Truliant location near you, or by giving us a call at 800.822.0382.