Truliant Relocates Kernersville Branch to 794 S. Main Street
Truliant Relocates Kernersville Branch to 794 S. Main Street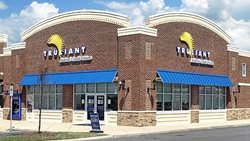 WINSTON-SALEM, N.C. (October 25, 2019) - Truliant Federal Credit Union announced the opening this week of its newly relocated Kernersville branch to 794 S. Main St.
The new office replaces Truliant's former Pineview Drive branch. The new branch specializes in auto loans in Kernersville, it's situated in the heart of the Kernersville business district, right behind the Main Street Market Shopping Center.
"Truliant's mission is to improve the financial lives of our members," said Chris Murray, senior vice president of member experience and operations. "This new and improved location in Kernersville will give us a better opportunity to provide a higher level of services to our members."
The branch embraces Truliant's culture of improving lives and is being led by Manager Vincent Mespelt. The new branch features an open floor plan and teller pods for auto loans, personal loans, credit cards and more. The open areas removed the barriers and allows for a more consultative approach to member interaction. This unique design concept focuses on modernization, service and member experience. It includes a walk-up Smart ATM that distributes multi-denominational amounts and accepts deposits without envelopes.
It also provides member-owners with the latest in financial products and services while maintaining a focus on personal attention and convenience. The new branch features an interactive kiosk terminal, which allows members to watch member testimonials, learn about Truliant's history, and find information about promotions, tutorials and more.
Truliant offers interest-free checking, and a variety of low-rate options on auto loans, home equity loans and lines of credit, mortgages and other loans. It also provides No-Cost Credit Reviews for new and existing members offering guidance on how members can save money and reach their goals.
Visit the new office and learn how you can save money on all of your vehicle loans, personal loans and home equity loans. Call us at
800-822-0382
.