Truliant's Brighter Days Holiday Initiative
Truliant's Brighter Days Holiday Initiative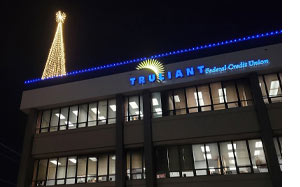 WINSTON-SALEM, N.C. (November 24, 2020) –Truliant Federal Credit Union announced today that this holiday season it will partner with community organizations to spread a message of hope through its 'Brighter Days' initiative.
Local charities and nonprofits have faced unprecedented requests for services this year. Those who provide assistance for food insecurity, unemployment, mental health, homelessness, child welfare, and many other areas have seen increased demand throughout the pandemic. At this crucial time, many face concerns about fewer dollars coming in next year despite ongoing need.
"We can all agree that 2020 has been challenging. From a global pandemic to financial hardships; from vacations canceled to family gatherings being impacted, this holiday season is going to look different," said Tricia Beeker, director of marketing. "Truliant is different too – we're here to shine a light on these dark days and help our community see Brighter Days during the holidays."
To formally kick off 'Brighter Days,' Truliant will light a tree on top of the building at its
Friendly Center location
at 600 Green Valley Road in Greensboro. The lit tree, at one of the Triad's busiest holiday shopping locations is a small reminder that better days lie ahead, and that Truliant is here to improve lives.
Through the initiative, Truliant is working with 35+ community organizations in the Carolinas and Virginia. The initiative will impact more than 2,300 individuals across the credit union's branch footprint. Truliant is offering funding for utility and rent assistance, food and meal delivery, gift cards to purchase toys for foster children and children at domestic abuse centers, local food pantries, headphones for virtual learning students, kid's shoes and coats, emergency needs items for students, and more.
"We celebrate the work of community partners who did an outstanding job of filling the gaps in communities during this challenging year. At Truliant, we're carrying out our mission to improve lives by helping them close 2020 strong and with the support to continue providing comfort and a crucial safety net to those who are most vulnerable," said Atticus Simpson, director of community engagement. "There are hopeful signs for health and economic recovery on the horizon. We are building on the message that Brighter Days are ahead."
During the next few weeks, Truliant will fund projects in the Triad with H.O.P.E. of Winston-Salem, Clemmons Food Pantry, Christmas Cheer of Alamance County, Greensboro Youth Council and the City of Greensboro; the P.O.W.E.R. of Play Foundation, Forsyth Tech Foundation, Central Piedmont Community College, Consumer Credit Counseling Services, Family Services of the Piedmont, and Cover the City Project. Truliant is supporting Cops and Barbers in Charlotte and the Children's Home Society in both Greensboro and Charlotte. In southwest Virginia, Truliant is supporting Radford Elf Shelf and Helping Overcome Poverty's Existence, and in South Carolina, Greer Relief in Greenville.
---
About Truliant Federal Credit Union
Truliant is a mission-driven, not-for-profit financial institution that promises to always have its member-owners' best interest at heart. It improves lives by providing financial guidance and affordable financial services. Truliant was chartered in 1952 and now serves 267,000+ members. Truliant has more than 30 Member Financial Centers in North Carolina, South Carolina and Virginia.
FOR MORE INFORMATION
Contact: Heath Combs
[email protected]
(o) 336.293.2054 (c) 336.442.5736