Truliant's Graham Branch Now Open
Truliant's Graham Branch Now Open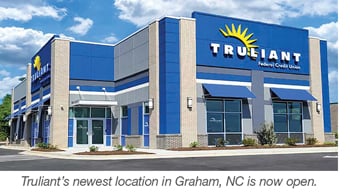 WINSTON-SALEM, N.C. (June 24, 2021) – Truliant Federal Credit Union announced today that its new branch location in Graham, N.C. is now open. The branch is located at 915 S. Main Street.
The 3,620 square foot branch, beside O'Reilly Auto Parts, features a full-service drive up ATM. It is Truliant's fourth in Alamance County and has a modern, fresh design, dedicated parking and 24-hour ATM access. The lobby hours will be Monday-Thursday, 9 a.m. to 5 p.m. and Friday from 9 a.m. to 6 p.m.
"We're excited to open our doors in Graham to better serve our members," said Kim Alderman, vice president of member experience. "This branch allows Truliant to deepen connections with community partners and small businesses, and most importantly, to provide more support, enhanced technology and tools to help our member-owners prosper."
With an open floor plan and teller pods that remove barriers and allow for a more consultative approach to member interaction, Truliant locations feature a unique design concept that focused on modernization, service and member experience. The Graham location will provide member-owners with the latest in financial products and services while maintaining a focus on personal attention and convenience.
---
About Truliant Federal Credit Union
Truliant is a mission-driven, not-for-profit financial institution that promises to always have its member-owners' best interest at heart. It improves lives by providing financial guidance and affordable financial services. Truliant was chartered in 1952 and now serves 275,000+ members. Truliant has more than 30 Member Financial Centers in North Carolina, South Carolina and Virginia.
FOR MORE INFORMATION
Contact: Heath Combs
[email protected]
(o) 336.293.2054 (c) 336.442.5736