Truliant Furthers Diversity Efforts with 'Everyone Under the Sun'
Truliant Furthers Diversity Efforts with 'Everyone Under the Sun'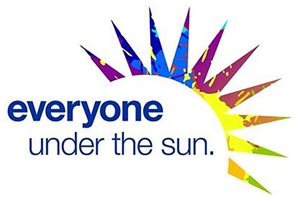 WINSTON-SALEM, N.C. (July 21, 2021) – Truliant Federal Credit Union recently announced several early actions aimed at advancing its Diversity, Inclusion and Equity (DI&E) planning.
As part of Truliant's ongoing commitment to fostering an inclusive workplace, the credit union debuted its 'Everyone Under the Sun' logo to visually represent the power of celebrating individual differences. Contributing to the design are different colors, specks, and spatter incorporated into Truliant's sunburst to symbolize that employees shine brighter together.
"We are excited about how this logo helps represent the journey of diversity, inclusion and equity that we are collectively taking together," said Veronica Calderon, senior vice president of diversity, inclusion and equity at Truliant. "We are proud of our efforts to continually create meaningful strategies that inspire change."
The new logo will accompany DI&E communications and be featured throughout Truliant corporate offices. A large wall graphic of the logo has been placed at Truliant Way's employee entrance, and at other areas at its headquarters.
"I often get asked about the importance of the order; Diversity, Inclusion and Equity," Calderon said. "Any successful effort must begin by prioritizing people over policies, and that is reflected in DI&E."
"Truliant's organizational focus starts with Diversity, making sure its teams reflect the communities it serves at every level of the organization. Following that, we maintain a culture of Inclusion and belonging where all employees are valued and have a voice. Rounding out the initiative, Truliant is focusing on bringing more Equity into its business practices, policies and procedures," Calderon said.
Growing DI&E efforts at Truliant, in addition to the logo, include more partnerships with strategic collaborators, formalizing strategic plans, and instituting more in-depth diversity education and conversations at all levels of the organization. The credit union recognized Juneteenth as a partial holiday in 2020, as a day of reflection and as a full paid holiday in 2021 – prior to enactment as a federal holiday.
To learn more about working at Truliant, visit our careers page:
www.truliant.org/careers
.
---
About Truliant Federal Credit Union: Truliant is a mission-driven, not-for-profit financial institution that promises to always have its member-owners' best interest at heart. It improves lives by providing financial guidance and affordable financial services. Truliant was chartered in 1952 and now serves 280,000+ members. Truliant has more than 30 Member Financial Centers in North Carolina, South Carolina and Virginia.

FOR MORE INFORMATION
Contact: Heath Combs
[email protected]
(o) 336.293.2054 (c) 336.442.5736