Truliant Names Gatling to Board of Directors
Truliant Names Gatling to Board of Directors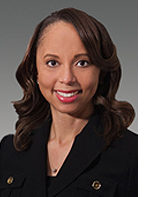 WINSTON-SALEM, N.C. (March 11, 2021) – Truliant Federal Credit Union announced today that Kimberly Bullock Gatling, a partner at the Fox Rothschild law firm, will join its board as an associate director.
Gatling is the chief diversity and inclusion officer for the law firm. Gatling, who has been with the firm for more than 20 years, concentrates her practice on intellectual property prosecution, licensing and litigation. In addition, she is a member of the firm's privacy and data security group, which assists clients with managing and protecting sensitive data and personal information.
"On behalf of our board, I am pleased to welcome Kim to Truliant during an exciting time for the credit union," said Board Chairman Jimmy Flythe "She is a recognized leader in her field and the greater Triad community, and we welcome her deep knowledge and valuable perspective in a number of areas vital to our future operations and strategic direction."
Currently, Gatling serves on the boards of the United Way of Greater Greensboro and the Cone Health Foundation, as well as the board of trustees for North Carolina A&T State University. She has also held leadership positions with the American Cancer Society, Habitat for Humanity of Greater Greensboro, Triad Stage, Jack and Jill of America and The Links, Incorporated. Gatling taught public law and leadership at Elon University Law School in 2014, 2015 and 2016.
"I am honored to be joining Truliant Federal Credit Union's board of directors," Gatling said. "Truliant's volunteer board is an impressive and inspiring group of professionals who strongly believe in helping their member-owners meet their financial goals through increased access to financial services and tools."
In 2020, Gatling was among the Citizen Lawyer Award winners named by the North Carolina Bar Association and she was named an Outstanding Woman in Business honoree by the Triad Business Journal.
Gatling has a bachelor's degree in electrical engineering from North Carolina A&T State University; she has a law degree from George Washington University Law School.
---
About Truliant Federal Credit Union
Truliant is a mission-driven, not-for-profit financial institution that promises to always have its member-owners' best interest at heart. It improves lives by providing financial guidance and affordable financial services. Truliant was chartered in 1952 and now serves 270,000+ members. Truliant has more than 30 Member Financial Centers in North Carolina, South Carolina and Virginia.
FOR MORE INFORMATION
Contact: Heath Combs
[email protected]
(o) 336.293.2054 (c) 336.442.5736