Truliant to Replace Winston Tower Signage
Truliant to Replace Winston Tower Signage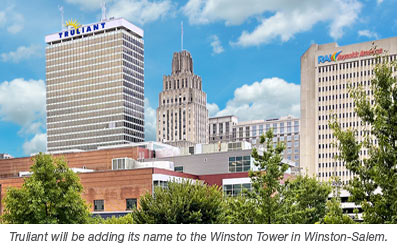 WINSTON-SALEM, N.C. (December 10, 2021) – Truliant Federal Credit Union announced today that it will replace the current Winston Tower signage with the credit union's name and sunburst.

Truliant said Friday that it has secured permit approval for its signage on the 30-story tower. Installation and manufacture of signage will take place in upcoming months. Winston Tower is located at 301 N. Main St. in downtown Winston-Salem. The building officially opened in 1966 as Wachovia Bank's headquarters.

"As a proactive partner and longtime corporate citizen of Winston-Salem, we're excited to take our brand to a whole new level with signage on this established landmark," said Todd Hall, Truliant's president and CEO. "Our sunburst as a fixture of the downtown skyline highlights our long legacy of member service and dedication to the city of Winston-Salem."

Truliant has been headquartered in Winston-Salem since it was founded in 1952 and is the largest financial institution headquartered in the Triad. The signage will be in place in 2022 as Truliant commemorates its 70th anniversary.

Among other recent projects in Winston-Salem, Truliant is currently renovating a three story, 154,000-square-foot space at Hanes Mall to serve as its new operations center, expected to open in mid-2022. It completed the rehabilitation of a former Office Depot on Hanes Mall Boulevard into its Truliant Academy training center in 2020.

Winston Tower's History
In 1966, the Wachovia Bank headquarters was the tallest building in North Carolina and the southeast. The building has always been a distinctive landmark in downtown Winston-Salem. It occupies prime downtown real estate and occupies a full city block.

As an early-1960s urban renewal project the construction of the building ended the drought of major downtown building projects in Winston-Salem that started with the Great Depression. Wachovia vacated the building in the mid-1990s for its new headquarters in the Wachovia Center.

Listed on the National Register of Historic Places in 2001 as the Wachovia Building, it was purchased in 2003 and reopened as Winston Tower, the name that has appeared on the tower for almost two decades. The building is visible from Silas and Peters Creek Parkways, U.S. 52, and other city landmarks, and serves as a centerpiece of the Winston-Salem skyline.
---
About Truliant Federal Credit Union:
Truliant is a mission-driven, not-for-profit financial institution that promises to always have its member-owners' best interest at heart. It improves lives by providing financial guidance and affordable financial services. Truliant was chartered in 1952 and now serves 280,000+ members. Truliant has more than 30 Member Financial Centers in North Carolina, South Carolina and Virginia.
FOR MORE INFORMATION
Contact: Heath Combs
[email protected]
(o) 336.293.2054 (c) 336.442.5736