Truliant Wins Two CUNA Diamond Awards for Outstanding Marketing
Truliant Wins Two CUNA Diamond Awards for Outstanding Marketing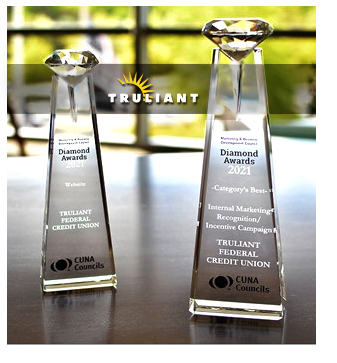 WINSTON-SALEM, N.C. (May 6, 2021) – Truliant Federal Credit Union announced today that it was recently honored with two Diamond Awards – including one Category's Best – recognizing outstanding marketing and business development achievements in the credit union industry.
The awards are presented by the Credit Union National Association (CUNA) Marketing & Business Development Council, a national network comprised of over 1,200 credit union marketing and business development professionals. Awards were given in more than 30 categories ranging from advertising to community events and beyond.
Truliant earned an esteemed Category's Best distinction in the Internal Marketing Recognition category for a video recognizing its Bonita Hauser Philosophy in Action Award winner during Truliant's annual employee event TruFest. Truliant was also honored with a Diamond Award for its website redesign project. The credit union launched a new site in 2020 with a mobile-first design, improvements to self-service capability and more relevant content for member-owners to access information.
"We strive to create marketing that stands out. To be recognized as the best-of-the-best among our peers for how we honor our employees and better serve members is a great accomplishment for Truliant's marketing teams," said Tricia Beeker, senior director of marketing at Truliant.
The Diamond Awards recognize outstanding marketing and business development achievements in the credit union industry. Each year, credit unions, leagues, and CUSOs from across the country submit numerous campaigns, logos, rebrands, and multi-media entries in hopes of being selected for one of these prestigious industry awards.
The CUNA Marketing & Business Development Council celebrated Diamond Awards Week by announcing winners in April through a series of virtual awards ceremonies.
---
About Truliant Federal Credit Union
Truliant is a mission-driven, not-for-profit financial institution that promises to always have its member-owners' best interest at heart. It improves lives by providing financial guidance and affordable financial services. Truliant was chartered in 1952 and now serves 270,000+ members. Truliant has more than 30 Member Financial Centers in North Carolina, South Carolina and Virginia.
FOR MORE INFORMATION
Contact: Heath Combs
[email protected]
(o) 336.293.2054 (c) 336.442.5736