Truliant Names Jackson Vice President of SBA Lending
Truliant Names Jackson Vice President of SBA Lending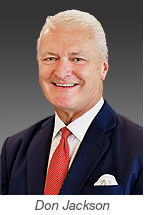 WINSTON-SALEM, N.C. (July 13, 2022) Truliant Federal Credit Union announced today that it has promoted Don Jackson to the newly created role of Vice President of Small Business Administration (SBA) Lending.
In his new role, Jackson will be responsible for SBA-related strategic initiatives at Truliant. He will continue to manage Truliant's SBA loan portfolio and development of its SBA loan objectives, policies, and practices across regional divisions. Jackson reports to Steve Koelsch, senior vice president of commercial lending.
"Don has done a tremendous job of realizing the potential of our SBA lending program in a short amount of time," Truliant's Koelsch said. "His commitment to addressing the needs of our business members with well-thought out solutions has grown Truliant's presence as a sought after partner in this area."
Since joining Truliant in 2020 as SBA Director, Jackson has grown Truliant's SBA lending team and built an effective loan production platform to originate, close and service SBA and U.S. Department of Agriculture (USDA) loans. Jackson is responsible for significant increases in SBA loan volume at Truliant and for streamlining underwriting processees to close SBA loans faster. He leads a team of four employees with plans for additional hiring.
Throughout his career, Jackson has successfully managed the day-to-day operations of SBA divisions, and executed the start-up, platform build-out and management of SBA and Government Guaranteed Lending programs.
Jackson attended Central Piedmont Community College where he studied marketing and management. He also received management, lending and retail management training at the University of North Carolina at Charlotte, Sales and Marketing University and Cornell University.
---
About Truliant Federal Credit Union
Truliant is a mission-driven, not-for-profit financial institution that promises to always have its member-owners' best interest at heart. It improves lives by providing financial guidance and affordable financial services. Truliant was chartered in 1952 and now serves 289,000+ members. Truliant has more than 30 Member Financial Centers in North Carolina, South Carolina and Virginia.
FOR MORE INFORMATION:
Contact: Heath Combs
[email protected]
(o) 336.293.2054 (c) 336.442.5736