Truliant Hires Nichols as Vice President, Commercial Market Executive – Triad
Truliant Hires Nichols as Vice President, Commercial Market Executive – Triad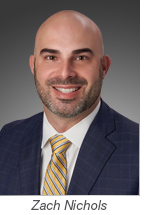 WINSTON-SALEM, N.C. (March 8, 2022) – Truliant Federal Credit Union has hired Zach Nichols to the role of vice president, commercial market executive, Triad.

Nichols will be responsible for growth and management of the credit union's business loan portfolio in the Triad region. He will represent Truliant's commercial lending program, working to increase awareness and providing strategic direction to the regional commercial lending team. Nichols will oversee Truliant's Triad Commercial Lending Office in Greensboro.

He reports to Steve Koelsch, senior vice president, commercial lending.

"Zach is an excellent addition to lead our commercial lending team in the Triad region," Truliant's Koelsch said. "He brings a wealth of relationship management and business development experience to Truliant, and a proven track record for offering solutions that drive businesses growth."

Nichols is a Triad area native, having served in various commercial leadership positions with BB&T, CommunityOne, and PNC Bank. Most recently, he was Senior Vice President, Commercial Banking at First Citizens Bank.

Nichols is a graduate of the Leadership Development Program at the BB&T School of Banking at Wake Forest University. He serves on the board of directors of the Davidson County Education Foundation and Davidson County Sports.

He is a graduate of Greensboro College and the University of North Carolina at Greensboro, earning degrees in Sports Administration and Business Administration.
---
About Truliant Federal Credit Union:
Truliant is a mission-driven, not-for-profit financial institution that promises to always have its member-owners' best interest at heart. It improves lives by providing financial guidance and affordable financial services. Truliant was chartered in 1952 and now serves 280,000+ members. Truliant has more than 30 Member Financial Centers in North Carolina, South Carolina and Virginia..

FOR MORE INFORMATION
Contact: Heath Combs
[email protected]
(o) 336.293.2054 (c) 336.442.5736