Southern Promoted to Vice President of IT Infrastructure, Operations
Southern Promoted to Vice President of IT Infrastructure, Operations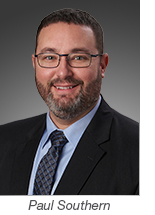 WINSTON-SALEM, N.C. (March 9, 2022) – Truliant Federal Credit Union has promoted Paul Southern to vice president of IT infrastructure and operations. Previously, Southern was the director of IT infrastructure services at Truliant.
Southern will lead Truliant's IT infrastructure teams to ensure the effective build, rollout and operations of its technology infrastructure. He has responsibility for Infrastructure Services and IT Support Services. In Southern's new role, he will execute a cloud strategy for Truliant's next generation data center.
He reports to Laura Dezarn, Truliant's chief information officer.
"It is clear that staying ahead of the curve requires exceptional IT leadership. Paul has a wealth of IT knowledge," Truliant's Dezarn said. "We look forward to his increased role in implementing the member-focused technology experiences that are a priority for Truliant."
Among other accomplishments, Southern and his teams relocated Truliant's primary data centers to ensure robust availability of its data systems. He joined Truliant in 2018.
Southern came to Truliant from Essent Guaranty, a private mortgage insurance company. He was the senior network engineer. In 2005, Southern joined the U.S. Army. He had two tours of Iraq and managed soldiers, systems and communication platforms that supported more than 900 soldiers. He served in the military for six years.
Southern has a bachelor's degree in management information systems from High Point University.
---
About Truliant Federal Credit Union:
Truliant is a mission-driven, not-for-profit financial institution that promises to always have its member-owners' best interest at heart. It improves lives by providing financial guidance and affordable financial services. Truliant was chartered in 1952 and now serves 280,000+ members. Truliant has more than 30 Member Financial Centers in North Carolina, South Carolina and Virginia..

FOR MORE INFORMATION
Contact: Heath Combs
[email protected]
(o) 336.293.2054 (c) 336.442.5736