Truliant to Add More Than 100 New Jobs in 2022
Truliant to Add More Than 100 New Jobs in 2022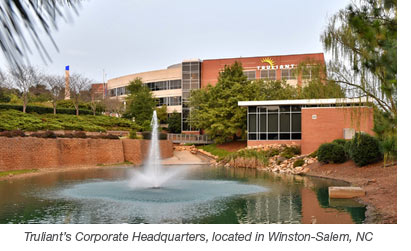 Growth in technology and new member services drives need for additional talent.
WINSTON-SALEM, N.C. (March 3, 2022)
–
Truliant Federal Credit Union announced today that it will add more than 100 new jobs in 2022, the result of expanding services across its three-state footprint.
The job growth is driven by the need for more employees in technology and products and services areas, including mortgage lending, insurance, indirect auto lending, and business lending, among others. The jobs are a mix of remote, hybrid and in-person roles.
"The urgency of our hiring initiative comes from a desire to create the best possible experience for Truliant members as we grow. To continue transforming our services and unlocking the vast potential of new technology requires a greater investment in people," said Todd Hall, president and CEO of Truliant.
He added: "Since 2016, we have grown from 200,000 to more than 280,000 members because we have added more services and pioneered a mission-driven, member-focused, collaborative workplace that operates on the belief of putting members first."
Truliant's total number of employees has increased by 12 percent since January 2021. It currently has more than 800 employees, including about 670 employees in the Piedmont Triad. It is heavily recruiting in areas including project management, information technology, and member service. The credit union is also adding jobs in its facilities and innovation areas as well its call center. Truliant's mortgage services areas and its recently launched Insurance Services division are expanding and hiring agents.
Truliant is committed to diversity, inclusion and equity in its hiring practices, with a goal of hiring that is representative of its membership. The credit union has several openings for bilingual preferred or required roles.
"As an established financial institution that values having a high-quality workplace, these new roles will make us better positioned to support our communities by providing upward mobility and a way for job seekers to use their transferrable skills to improve their job status, pay and benefits," Truliant's Hall said.
More than 50 percent of Truliant's employees live in low-income designated areas, reflecting the credit union's desire to hire from the communities it serves. Additionally, Truliant is investing in its organizational development and training areas to encourage the development of employees for long-term success.
"We are supporting our employee growth internally by adding training positions to protect our award-winning culture and the professional development of our employees to set them up for long-term career success," Truliant's Hall said.
For the last five years, Truliant was named a Best Places to Work employer by Triad Business Journal. Truliant offers competitive wages and a rich benefits packages that includes a pension plan, medical, dental, vision, prescription, short- and long-term disability and a 401(k) with matching contributions.
During the pandemic, Truliant paid two "thank-you" bonuses and expanded flexible work-from home options for employees. The credit union's corporate offices welcomed hybrid and full-time office employees back to the building on Feb. 28.
For a full list of current job openings, visit
www.truliant.org/careers
.
---
About Truliant Federal Credit Union:
Truliant is a mission-driven, not-for-profit financial institution that promises to always have its member-owners' best interest at heart. It improves lives by providing financial guidance and affordable financial services. Truliant was chartered in 1952 and now serves 280,000+ members. Truliant has more than 30 Member Financial Centers in North Carolina, South Carolina and Virginia..

FOR MORE INFORMATION
Contact: Heath Combs
[email protected]
(o) 336.293.2054 (c) 336.442.5736