Truliant Foundation Receives Funding from Visa to Support Charitable Programs
Truliant Foundation Receives Funding from Visa to Support Charitable Programs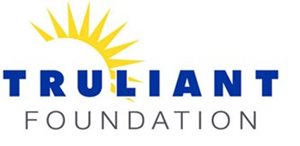 WINSTON-SALEM, N.C. (August 25, 2022) –
The Truliant Foundation
announced today that Visa, the world leader in digital payments, will give monetary funds to the Foundation to support the organization's charitable programs.
Visa will give to the foundation over the next five years as part of Visa's efforts to support local communities and uplift their economies. In 2022, its gift will support the Truliant Employee Relief Fund, the first program of the Foundation dedicated to the wellness of Truliant employees.
The fund provides financial assistance to employees experiencing financial hardship due to special situations outside of their control. Seed money for the fund was provided by Truliant's senior leadership, which was matched by the credit union.
"We are honored with Visa's contribution to the Truliant Foundation. This year's gift increases our ability to immediately respond to employees in times of crisis," said Todd Hall, president and CEO of Truliant. "We appreciate this investment in their well-being and the ability of our Foundation to further address the needs of the communities we serve."
The Truliant Foundation was launched in 2021 and expands on the "people helping people" philosophy of credit unions and Truliant's legacy of helping underserved populations. It was created as a platform to deepen connections with community partners and to support internal and external credit union charitable programs.
The foundation collaborates with organizations who align with Truliant's mission and community focus areas. Truliant's grant, donation, and scholarship programs are funded and managed as programs of the Truliant Foundation. In the last five years, Truliant has contributed more than $1 million in scholarships, grants and charitable gifts to community-focused organizations and local students.
About The Truliant Foundation
The Truliant Foundation supports Truliant Federal Credit Union's commitment to community and its social responsibility to give back to the neighbors it serves. Established in 2021, the foundation provides support to community partners working to enhance the quality of life in member communities. Donations to the Foundation are tax deductible. Learn more at Truliant.org/Foundation.
---
About Truliant Federal Credit Union
Truliant is a mission-driven, not-for-profit financial institution that promises to always have its member-owners' best interest at heart. It improves lives by providing financial guidance and affordable financial services. Truliant was chartered in 1952 and now serves 293,000+ members. Truliant has more than 30 Member Financial Centers in North Carolina, South Carolina and Virginia.

FOR MORE INFORMATION:
Contact: Heath Combs
[email protected]
(o) 336.293.2054 (c) 336.442.5736