Truliant Adds Heyward, Rodriguez to Board as Associate Directors
Truliant Adds Heyward, Rodriguez to Board as Associate Directors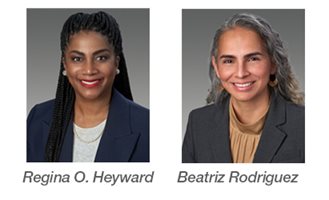 WINSTON-SALEM, N.C. (Jan. 20, 2022) – Truliant Federal Credit Union announced today that it has added two new associate directors to its board.
Truliant's new associate directors are Regina O. Heyward and Beatriz Rodriguez. Heyward is currently senior vice president, client communities and sustainability at LPL Financial. Rodriguez is assistant vice president, senior human resources strategic business partner at Atrium Health. The board of directors is comprised of nine directors and three associate directors.
"Our board is honored to welcome Regina and Beatriz to Truliant. We look forward to welcoming their perspectives as respected leaders in their fields," said Board Chairman Jimmy Flythe. "I'm confident we will benefit from their deep knowledge, alignment with our values, and expertise as they join our dedicated group of directors."
Heyward has more than two decades of multi-industry global business experience, having led significant commercial and diversity, equity and inclusion-related initiatives in North America, Asia, Latin America, and Europe. Heyward joined Truliant's board to support the growth and expansion of diversity and inclusion efforts in member communities and to help improve members' financial lives.
Rodriguez is an experienced human resources leader with expertise in policies, compensation and benefits, engagement, and culture and recruiting, among other areas. She joined the board to support Truliant's efforts to help underrepresented communities access financial services and capital.
---
About Truliant Federal Credit Union
Truliant is a mission-driven, not-for-profit financial institution that improves lives by providing great service and straightforward financial solutions. It improves lives by providing financial guidance and affordable financial services. Truliant was chartered in 1952 and now serves 300,000+ members. Truliant has 30+ branch locations in North Carolina, South Carolina and Virginia.

FOR MORE INFORMATION:
Contact: Heath Combs
[email protected]
(o) 336.293.2054 (c) 336.442.5736