How Do Home Construction Loans Work?
How Do Home Construction Loans Work?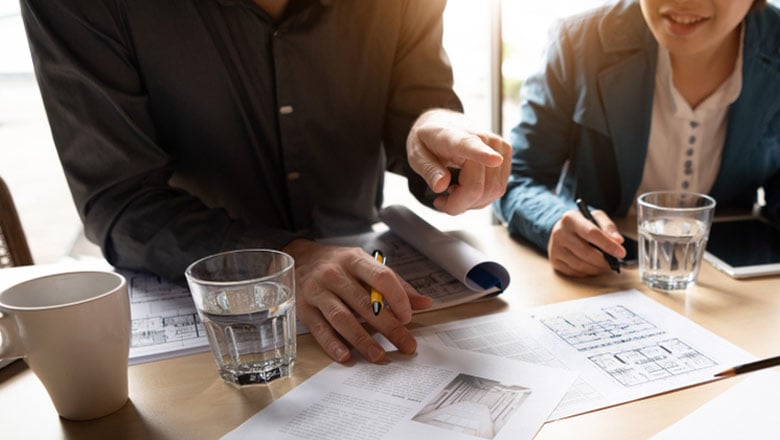 A Comprehensive Guide on How Construction Loans Work
You've acquired a plot of land, chosen a
contractor
, and designed the architectural layout for your new house. However, before the first patch of soil can be shoveled and the foundation and framing begins, you'll need to secure financing.
Construction loans are a common financing option for
building a new house
, renovating an existing one or securing a plot of land. This guide will help you understand what new home construction loans are, how it works, and how to maximize your chances of getting approved for a loan.
What is a home construction loan?
As the name implies, a new home construction loan finances the construction of a residential property. Repayment is usually a 12-month period, after which it is either paid in full or converts to a traditional mortgage. Credit unions and banks offer competitive rates for construction loans.
A home construction loan is similar to a traditional mortgage, but with the additional requirement of vetting the contractor you're using for the project. Upon approval of your chosen contractor, the lender will underwrite your loan application, and construction can start.
There are two different types of home construction loans:
1. Construction-to-Permanent Loans
Also known as C2P loans or single-close loans, a construction-to-permanent loan automatically changes to a traditional mortgage once the project is completed. The lender may call this shift a refinance or modification of the loan.
Construction-to-permanent loans a great way to avoid going through the loan process twice – once for the land or construction materials, and then again for the traditional mortgage, saving you from paying fees and additional costs twice.
2. Stand-Alone Construction Loans
Compared to a C2P loan, stand-alone loans are meant for short-term financing. Once construction is completed, you'll repay the loan amount. If a borrower does not have funds to do so, they will have to secure a mortgage, which entails a separate application process. Keeping the construction and mortgage loans separate enables the borrower to find the most competitive terms accessible at the time of the application.
What are the requirements for a home construction loan?
Similar to the loan application requirements for a traditional mortgage, home construction lenders will look at your income, credit score, and outstanding debt to determine your financial capacity to repay the loan. Aside from these standard requirements, borrowers may also need to have some cash savings available to provide the financial institution. As construction work advances, costs increase.
It's important to consult with a professional before applying for a construction loan. In most cases, an architect should do. However, for more complex projects, you may also need to consult a structural engineer.
Next, get your blueprints and specifications drawn out. Be sure you've already negotiated the terms and locked down the total costs of the project with the contractor you'll be using.
Your contractor must also be vetted by the lender. They should be able to provide a list of references of subcontractors and vendors they've worked with in the past. This serves as proof that the contractor can complete projects and pay their third-party vendors on time. Lenders don't want the risk of having the contractor walk out of the project midway through. This can cause major delays in construction and, consequently, loan repayments.
Lenders will also request a property appraisal be done in order to back up the value of the collateral. A standard mortgage uses an existing property as collateral if the borrower fails to repay the loan. With a home construction loan, on the other hand, there is no property to use as collateral yet.
What happens after your loan gets approved?
Once your loan gets approved, construction usually commences right away. The funds, however, are not paid out in one lump sum. Instead, the funds are deposited to your account in portions, usually every time a construction milestone is hit. Milestones may include excavating the plot of land, getting the foundation laid, or starting the actual framing of the house.
When your contractor needs more funding, they can request a draw. The lender will have to schedule an on-site inspection before the draw is approved to make sure the milestones are reached. Prior to releasing any additional funds, make sure your contractor has paid their suppliers and subcontractors.
---