Truliant Offers Remote Work as Perk for Employees
Truliant Offers Remote Work as Perk for Employees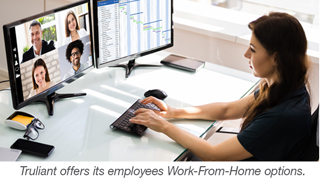 WINSTON-SALEM, N.C., June 15, 2021 – Truliant Federal Credit Union announced today that it is offering full-time and flexible work-from-home options for employees when its corporate office reopens later this year.
Truliant has implemented a hybrid work-from-home program that allows eligible positions to work from home five days a week or have blended remote work options. The options are being offered to increase employee satisfaction, enhance work/life balance, boost productivity and attract and retain talent.
"From adjusting to the learning curve, to staying motivated through a year of continued and sudden change, Truliant's leadership was impressed with many aspects of our employees' remote work experience," said Todd Hall, president and CEO of Truliant. "We have a much greater understanding of how it fits into our business model, its beneficial impact on employee wellness, and how it can help us better serve our 275,000 member-owners."
In 2018, Truliant began a work-from-home pilot program with 20 employees. In March 2020, at the onset of the pandemic, more than 300 employees began working remotely. The credit union, which has more than 700 employees, plans to reopen its headquarters in September. Employees will return to the corporate office in phases.
Some departments, including accounting, finance and project management, will work primarily from home. Other teams will be based at the credit union's headquarters because of equipment, platform access and other considerations needed to deliver high service levels.
"The work-from-home pilot program was significantly expanded during the pandemic out of necessity. What we learned is that while some jobs are done most effectively on-site, many jobs can be done successfully outside the office," said Sherri Thomas, chief administrative officer at Truliant. "We will continue to develop strong processes around remote work. It comes with tangible benefits to us as an employer, and we want our employees to benefit from the possibilities it offers."
Truliant will adapt existing strategies to preserve a healthy work culture for remote employees to keep them engaged and to promote the credit union's values. New employees will have an in-person two-week orientation at Truliant Academy on Hanes Mall Boulevard in Winston-Salem. Additionally, Truliant will provide training and workshops about how to manage work remotely.
---
About Truliant Federal Credit Union
Truliant is a mission-driven, not-for-profit financial institution that promises to always have its member-owners' best interest at heart. It improves lives by providing financial guidance and affordable financial services. Truliant was chartered in 1952 and now serves 275,000+ members. Truliant has more than 30 Member Financial Centers in North Carolina, South Carolina and Virginia.
FOR MORE INFORMATION
Contact: Heath Combs
[email protected]
(o) 336.293.2054 (c) 336.442.5736