Truliant Promotes Bright to Senior Director Position
Truliant Promotes Bright to Senior Director Position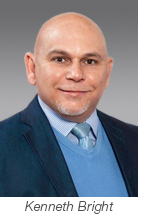 WINSTON-SALEM, N.C. (April 14, 2021) – Truliant Federal Credit Union has promoted Kenneth Bright to the position of senior director, organizational development and training. Previously, Bright was Truliant's director of organizational development and training.
In his new role, Bright adds responsibility for managing internal employee communications and leveraging technology to support the initiative. He retains responsibility for overseeing the creation, delivery, assessment and tracking of all training and organizational development programs.
Bright has been integral in cultivating Truliant's culture. He has successfully directed training programs that instill virtues to help employees meet member-owner needs and improve financial lives. Bright reports to Sherri Thomas, Chief Administrative Officer.
"Kenneth has done an exceptional job of building and preparing our teams to truly make a difference in the lives of our member-owners. He remains committed to finding creative ways to engage employees and enhance our workplaces," Thomas said. "He exceeds expectations by providing top tier recruiting and training leadership that aligns with our values."
Among his accomplishments, Bright successfully launched Truliant's first-ever learning management and knowledge management systems, better equipping employees with information to serve members. In 2019, he added responsibility for recruiting, managing the employee experience from acquisition, onboarding and employee development.
Bright has more than two decades of learning, development, and human resources experience. He joined Truliant in April 2012 as manager of Training and Organizational Development. He is a certified master trainer in Development Dimensions International, with specializations in facilitation and behavioral-based interviewing. Bright holds a Bachelor of Arts degree from the University of South Carolina.
---
About Truliant Federal Credit Union
Truliant is a mission-driven, not-for-profit financial institution that promises to always have its member-owners' best interest at heart. It improves lives by providing financial guidance and affordable financial services. Truliant was chartered in 1952 and now serves 270,000+ members. Truliant has more than 30 Member Financial Centers in North Carolina, South Carolina and Virginia.
FOR MORE INFORMATION
Contact: Heath Combs
[email protected]
(o) 336.293.2054 (c) 336.442.5736