Truliant Launches Satellite Call Center Office in Greensboro
Truliant Launches Satellite Call Center Office in Greensboro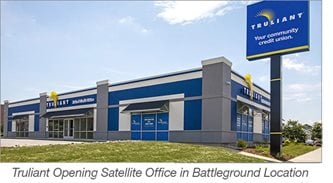 WINSTON-SALEM, N.C. (September 27, 2022)
Truliant Federal Credit Union announced today that it has launched its first Member Contact Center satellite office in Greensboro as part of an effort to offer more local jobs and broaden recruiting.
The satellite office, which launched in September and has 12 employees, is located in flexible back office space at Truliant's Battleground Avenue branch location. It the credit union's first dedicated contact center environment outside of its Winston-Salem headquarters. Truliant's intent is to staff the office with employees who live nearby.
"This effort furthers our commitment to Greensboro and the Triad by bringing more jobs to our communities. Additionally, it allows us to recruit from a broader talent pool," said Sherri Thomas, chief administrative officer at Truliant.
Truliant is also exploring satellite offices for its call centers in other markets. Its main contact center will continue to operate out of its Winston-Salem headquarters.
Truliant's contact centers offer trained support staff to help members with account needs. It includes bilingual representatives and specialized staff trained in different business functions.
"We want to make it easier for existing and potential employees to work and live in the same community, cut down on commute times, and create offices that are easy to travel to," said Mark Testerman, vice president, member experience, Member Contact Centers. "Plus, our members get the additional benefit of building rapport with Truliant through local market representatives."
Truliant call center representatives are available Monday thru Thursday from 8:00 a.m. to 5:30 p.m., Friday from 8:00 a.m. to 6 p.m. and Saturday from 9 a.m. to noon.
---
About Truliant Federal Credit Union
Truliant is a mission-driven, not-for-profit financial institution that promises to always have its member-owners' best interest at heart. It improves lives by providing financial guidance and affordable financial services. Truliant was chartered in 1952 and now serves 293,000+ members. Truliant has more than 30 Member Financial Centers in North Carolina, South Carolina and Virginia.

FOR MORE INFORMATION:
Contact: Heath Combs
[email protected]