Truliant Opens Cherrydale Point Branch
Truliant Opens Cherrydale Point Branch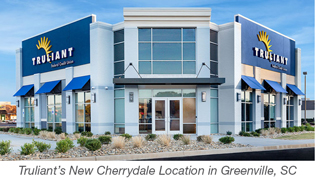 WINSTON-SALEM, N.C. (Nov. 21, 2022) – Truliant Federal Credit Union on Monday announced the opening of its new Cherrydale Point branch in Greenville. It is the first of three new regional expansion locations Truliant will open in Upstate South Carolina.

Located at 6 State Park Road, Cherrydale Point is Truliant's second Greenville branch. It will be managed by Ashley Haynes. The Cherrydale Point branch has a modern, fresh design, dedicated parking and 24-hour ATM access.
"This location truly reflects our commitment to delivering straightforward financial solutions and great service from convenient locations," said Kim Alderman, vice president, member experience, Member Financial Centers. "We are excited about the addition of this first new regional branch location, and look forward to opening more as we strengthen and grow relationships in the Upstate."

The branch includes three Spanish speaking bilingual representatives to address language barriers that present obstacles to understanding financial services, tools and technology and their use. Its hours are Monday-Thursday, 9 a.m. to 5 p.m. and Friday from 9 a.m. to 6 p.m.

With an open floor plan and teller pod that removes barriers to allow for a consultative approach, Truliant locations feature a unique design concept focusing on modernization, service and member experience. The new Cherrydale Point location will provide members with the latest in financial products and services while maintaining a focus on personal attention and convenience.

Truliant began a regional expansion in October with the opening of its Upstate Regional Office in downtown Greenville at 110 W. North Street. Truliant plans to add additional branches in Easley and Greer. The expansion will create more than 60 jobs, including branch staff, ancillary services, support and back-office roles, among others. Truliant has been serving Greenville since 1994. In 2016, Truliant opened a branch on Pelham Road in Greenville, replacing a long-standing Airport Road location.

Truliant strives to be an integral part of the communities it serves through valuable financial services, such as free checking, great rates, and convenience – and through community involvement.

---
About Truliant Federal Credit Union
Truliant is a mission-driven, not-for-profit financial institution that promises to always have its member-owners' best interest at heart. It improves lives by providing financial guidance and affordable financial services. Truliant was chartered in 1952 and now serves 293,000+ members. Truliant has more than 30 Member Financial Centers in North Carolina, South Carolina and Virginia.

FOR MORE INFORMATION:
Contact: Heath Combs
[email protected]