Local Support Paves Trail for Pilot Mountain License Plate
Local Support Paves Trail for Pilot Mountain License Plate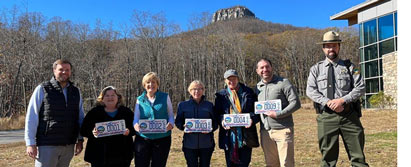 WINSTON-SALEM, N.C. (November 22, 2022) – A customized Pilot Mountain license plate initiated by the Friends of Sauratown Mountains (Friends) is being issued by N.C. Department of Motor Vehicles to applicants that completed applications last year.
A final drive to collect signatures needed to bring the license plate before the N.C. legislature in 2022 gained speed following the Grindstone Fire on Pilot Mountain, which burned more than 1,000 acres in November 2021. The plates were part of Senate Bill 201, signed into law in July.
The first Pilot Mountain license plates were mailed to signatories in mid-November. Additional plates will be available for the public to purchase on the DMV website starting in 2023. The plate reads "Pilot Mountain National Landmark" with a logo depicting Pilot Mountain State Park.
The purchase of these special license plates will generate a stream of income for Friends that can be used for park projects that are not funded by the state. Friends believes the plate will generate about $6,000 annually for the park.
"We are grateful for all of the local support that increased our ability to help Pilot Mountain State Park," said Debbie Vaden, president of the Friends of Sauratown Mountain. "Additionally, Truliant provided a generous gift at a key time for our signature campaign. These efforts will enable the license-plate program to keep providing money to the park for years to come."
In December, the
Truliant Foundation
made a $6,000 donation to the Friends organization to cover the remaining signature application fees for the license plate. The Friends were able to collect more than the required 300 signatures in order to submit the original application.
"The Grindstone fire was devastating for the Pilot Mountain area and the entire Triad community. It is one of our most beloved Triad landmarks," said Atticus Simpson, executive director of the Truliant Fondation. "We're pleased that the Truliant Foundation and the wider community were able to support the park so everyone can enjoy Pilot Mountain in the future."
Originally, Friends hoped to have the license plate available earlier in 2022, but the process was slowed by COVID. For information on purchasing a specialty license plate from the North Carolina DMV, visit
https://www.ncdot.gov/dmv/title-registration/license-plates/Pages/specialty-plates.aspx
. For more information about Friends, visit
https://sauratownfriends.org
.
About The Truliant Foundation
The Truliant Foundation supports Truliant Federal Credit Union's commitment to community and its social responsibility to give back to the neighbors it serves. Established in 2021, the foundation provides support to community partners working to enhance the quality of life in member communities. Donations to the Foundation are tax deductible. Learn more at
Truliant.org/Foundation
.
---
About Truliant Federal Credit Union
Truliant is a mission-driven, not-for-profit financial institution that promises to always have its member-owners' best interest at heart. It improves lives by providing financial guidance and affordable financial services. Truliant was chartered in 1952 and now serves over 300,000 members. Truliant has more than 30 Member Financial Centers in North Carolina, South Carolina and Virginia.

FOR MORE INFORMATION:
Contact: Heath Combs
[email protected]
(o) 336.293.2054 (c) 336.442.5736