Truliant Promotes Johnson to Senior Vice President, Controller
Truliant Promotes Johnson to Senior Vice President, Controller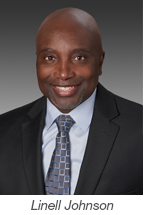 WINSTON-SALEM, N.C. (Sept. 8, 2022) – Truliant Federal Credit Union has promoted Linell Johnson to the role of senior vice president, controller. Previously, he was vice president, controller.

Johnson leads Truliant's financial reporting, operational accounting, internal controls, financial policies, and financial analysis departments. He also provides oversight of budgeting, and risk analysis, fixed asset management, and ACH processing. Johnson reports to Cosby Davis, chief financial officer.

"Linell has extensive experience in finance and accounting and a reputation for excellence. His guidance in developing these areas at the credit union have been critical to our long-term success," Davis said. "His contributions play a major role in adding value for our members. We look forward to his continued success."

A veteran of the credit union industry, Johnson has served in several financial and accounting leadership roles at Truliant. He joined the credit union in 1994, and worked in accounting before becoming its first financial analyst in 1997 – developing organizational and profitability systems, and refining budgeting processes. He became vice president, controller in 2017.

Johnson has led teams through core conversions and implementations of accounting and financial reporting systems. He has provided leadership for initiatives including financial modeling for Truliant's branch network, financial reporting for its CUSOs (Credit Union Service Organizations), lease accounting, and credit risk modeling.

Johnson serves as treasurer for Truliant's Political Action Committee. He has served with organizations including Victory Masonic Credit Union and Goler Memorial A.M.E. Zion Church. He is co-founder and former coach of the Winston-Salem Roadrunners Track Club.

Johnson earned a Bachelor of Science in Accounting from High Point University, and successfully completed the Certified Public Accountants exam there in 2003.
---
About Truliant Federal Credit Union
Truliant is a mission-driven, not-for-profit financial institution that promises to always have its member-owners' best interest at heart. It improves lives by providing financial guidance and affordable financial services. Truliant was chartered in 1952 and now serves 293,000+ members. Truliant has more than 30 Member Financial Centers in North Carolina, South Carolina and Virginia.

FOR MORE INFORMATION:
Contact: Heath Combs
[email protected]