Truliant Opens Branch Office in Lexington, NC
Truliant Opens Branch Office in Lexington, NC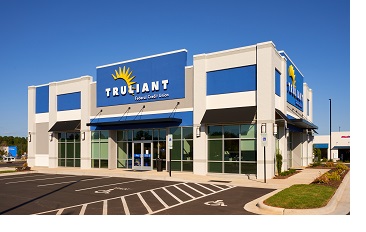 WINSTON-SALEM, N.C. (Oct 3, 2023) – Truliant Federal Credit Union announced today that it has opened a new branch in Lexington, N.C. Located at 170 Lowes Boulevard, it is Truliant's first location in Davidson County.

Truliant built the freestanding branch to better serve Davidson County, where it has a longstanding member base. The new location has a modern, fresh design, dedicated parking, two drive-thru lanes, children's play area, and 24-hour ATM access. It is Truliant's 36th branch office. It has five employees and is being managed by Kim Briggs.

"Already we've had a positive reception to this location from the greater Lexington and Davidson County communities," said Kim Alderman, vice president, member experience. "We encourage local residents and longtime members to visit us and experience brighter banking as we step up our level of convenience."

With an open floor plan and teller pod that removes barriers to allow for a more consultative approach, Truliant locations feature a unique design concept focusing on modernization, service and member experience. The new location provides members with the latest in financial products and services while maintaining a focus on personal attention and convenience.

Truliant strives to be an integral part of the communities it serves through valuable financial services, such as free checking, great rates, and convenience – and through community involvement. Truliant offers a full suite of services, including auto, home, personal loans, and commercial lending. Additionally, Truliant offers certificates, insurance, financial advisors, indirect lending and digital banking services.
The Lexington location is Truliant's 18th in the Piedmont Triad. Since 2021, the credit union has opened new locations in Graham and High Point.
About Truliant Federal Credit Union
Truliant is a mission-driven, not-for-profit financial institution that improves lives by providing great service and straightforward financial solutions. Truliant was chartered in 1952 and now serves 300,000+ members. Truliant has more than 35 Member Financial Centers in North Carolina, South Carolina and Virginia.
FOR MORE INFORMATION:
Contact: Heath Combs
[email protected]
(o) 336.293.2054 (c) 336.442.5736