Truliant Hires Miller as Director of Digital Marketing
Truliant Hires Miller as Director of Digital Marketing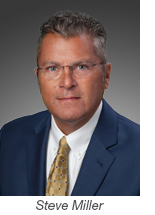 WINSTON-SALEM, N.C. (August 4, 2021) – Truliant Federal Credit Union announced today that it has hired Steve Miller as Director of Digital Marketing.
Miller will manage Truliant's Digital Marketing team. His responsibilities include website management, digital prospecting, acquisition and retention, search engine optimization, campaign management and execution, and digital communications to member-owners. He reports to Jeff Hibbard, senior vice president of digital experience and business transformation.
"Steve brings proven digital marketing experience that makes him well-suited to advancing our capabilities in this area," Hibbard said. "He will play a key role in leveraging technology to drive deeper engagement as our member-owners' digital expectations grow."
Miller has two decades of experience in digital marketing and e-commerce across a diverse set of industries. He has held roles in technology, furniture, and consumer markets. Miller's focus areas have included SEO strategies, website development, digital marketing execution and strategy, e-mail promotions, user experience, Agile development, and analytics.
Miller has a Master of Business Administration in information systems from Regis University and a bachelor's degree in marketing management from Virginia Tech.
---
About Truliant Federal Credit Union Truliant is a mission-driven, not-for-profit financial institution that promises to always have its member-owners' best interest at heart. It improves lives by providing financial guidance and affordable financial services. Truliant was chartered in 1952 and now serves 280,000+ members. Truliant has more than 30 Member Financial Centers in North Carolina, South Carolina and Virginia.

FOR MORE INFORMATION
Contact: Heath Combs
[email protected]
(o) 336.293.2054 (c) 336.442.5736