Truliant Promotes Hibbard to Chief Digital Officer
Truliant Promotes Hibbard to Chief Digital Officer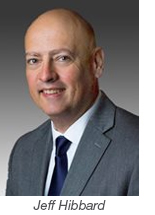 WINSTON-SALEM, N.C. (May 4, 2022) – Truliant Federal Credit Union has promoted Jeff Hibbard to the role of chief digital officer. Previously, Hibbard was the senior vice president, digital experience and business transformation.
In his new role, Hibbard will lead Truliant's digital-member experience strategies. He will work closely with Truliant's chief planning team to enhance the digital channel for Truliant members and increase automation of services. Hibbard will lead project management and project transformation efforts, and will continue to oversee the digital member experience, innovation, enterprise automation, digital marketing, and payments and card services areas of the credit union.
"Since his first day, Jeff has brought strategic insights to Truliant's digital structure and has been critical in helping us build a best-in-class framework for our digital services," said Todd Hall, president and CEO of Truliant. "He has sharpened our focus on making sure we keep pace with the fast changing environment, while adding speed and convenience for our members."
Among his achievements at Truliant, Hibbard led the redesign and relaunch of Truliant's website and strengthened the credit union's focus and digital strategy to the mobile-banking channel.
Hibbard serves as an executive committee board member for the Crosby Scholars, a Winston-Salem organization that is focused on creating post-secondary opportunities for high school graduates. He also serves as an admissions advisor for the McIntire School of Commerce at the University of Virginia.
Hibbard has a bachelor's degree from the University of North Carolina at Greensboro and a master's degree in information technology management from the University of Virginia. He completed an executive certificate program in financial services technology from the Massachusetts Institute of Technology.
---
About Truliant Federal Credit Union
Truliant is a mission-driven, not-for-profit financial institution that promises to always have its member-owners' best interest at heart. It improves lives by providing financial guidance and affordable financial services. Truliant was chartered in 1952 and now serves 289,000+ members. Truliant has more than 30 Member Financial Centers in North Carolina, South Carolina and Virginia.
FOR MORE INFORMATION:
Contact: Heath Combs
[email protected]
(o) 336.293.2054 (c) 336.442.5736